Lentil Beet Salad | A Nutrient-Dense, Satisfying Vegan Salad
This vegan lentil beet salad is one of my staple salads. It's packed with nutrition and perfect with toast!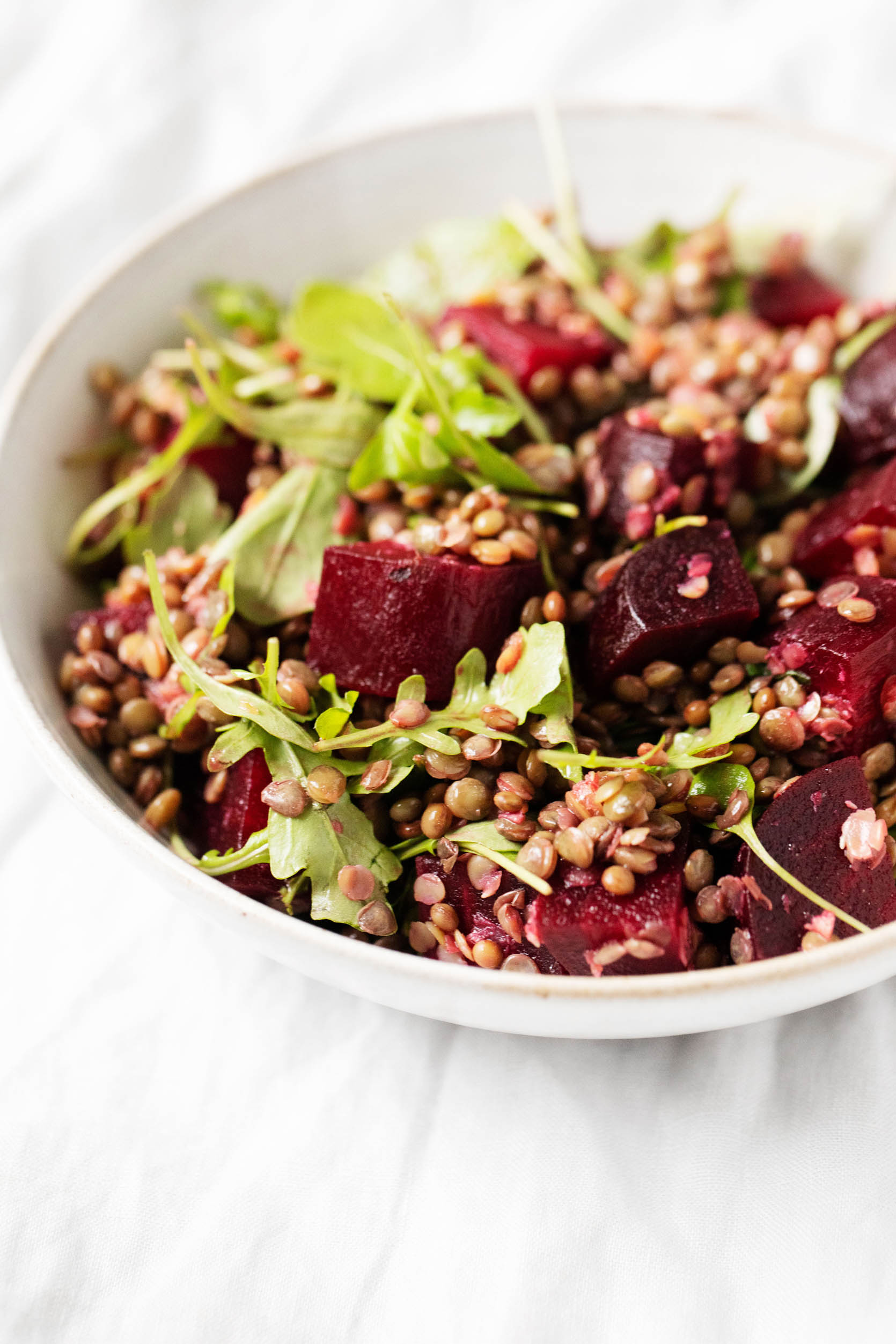 There are plenty of festive recipes to make and think about at this time of year. But sometimes I like to interrupt all of the holiday cookies and cakes with an every day staple recipe. This lentil beet salad is one of my favorites.
I have an easy time finding beets year round where I live, so I don't really think of this as a seasonal salad. I make it often: it's in some ways a pared down version of the Provencal bowls in Power Plates.
And if you wanted it to be less simple, you could dress the lentil beet salad up. You could add cashew cheese, vegan feta, croutons or rustic bread crumbs, nuts or seeds.
As you'll see, my favorite way to elevate the salad is to eat it with a toasted slice of really good bread. It's nice with a baked potato, too.
My favorite way to roast beets
Roasted beets are one of the costars of this relatively simple salad.
I love beets, and I eat them often. Occasionally I grate them or thinly slice them to eat them raw. Once in a while, I'll throw them into a soup and boil them. But most of the time, I roast them.
I've tried roasting beets a number of different ways through the years. For a while, I was peeling them before cooking, then tossing them in oil and into the oven.
I learned that peeling raw beets is one of my least favorite kitchen chores. So I started experimenting with different ways of roasting.
Nowadays, I always wrap them in foil before roasting at 400 till very, very tender. This takes about 1 hour for giant beets, maybe 40-45 minutes for medium sized ones. Then, once they're cool enough to be handled, I run the beets under cold running water. The skins are easy to slip off this way.
I very lightly rub the beets with olive or avocado (or another cooking oil) before I wrap them. This isn't exactly necessary, but I've found that it makes it much easier to slip the beet skins off when the time comes.
Once the beets are roasted, I chop and store them. They'll keep for four or five days in the fridge like this. If you'd like to use them in this lentil beet salad as well as other recipes, go ahead and double the number of beets that you roast. You can put the leftovers in:
Or, you can just throw them into a lunch bowl!
Lentil cookery
Cooking lentils is one of those things that sounds so simple. But getting lentils to have the right texture can be surprisingly complex.
I've taken to cooking lentils the same way that I cook pasta and brown rice. I boil them in a big pot of water, test them for doneness, and then drain them.
I find that this helps to prevent having either too little water to get the lentils tender or excess water after boiling. Both of which were routine happenings when I tried to cook lentils in a precise measurement of water.
I love French lentils in this recipe, but brown, green, beluga, and pardina lentils are all OK! (More on all of the many lentil varieties here.) With the exception of red lentils, use what you've got.
Lentil beet salad variations
Just as you can vary the lentils you use in this lentil beet salad, you can vary the other components, too.
I love the way red lentils look in the recipe (that color!). But golden beets will also work, and as a bonus, I think they taste a little sweeter. Chioggia beets—the stripey kind—are also lovely.
The vinaigrette that I use here is my standard, simple vinaigrette for green salads. I like vinegar in it, but sometimes I swap whatever vinegar I'm using (red wine, champagne, or sherry) for lemon juice.
As for the greens, I can't resist arugula in this lentil beet salad. I love the way its peppery bite helps to mellow the sweetness of the beets and brighten up the earthy lentils. But I've made the salad with baby kale and mesclun, too. It's different, but also very good.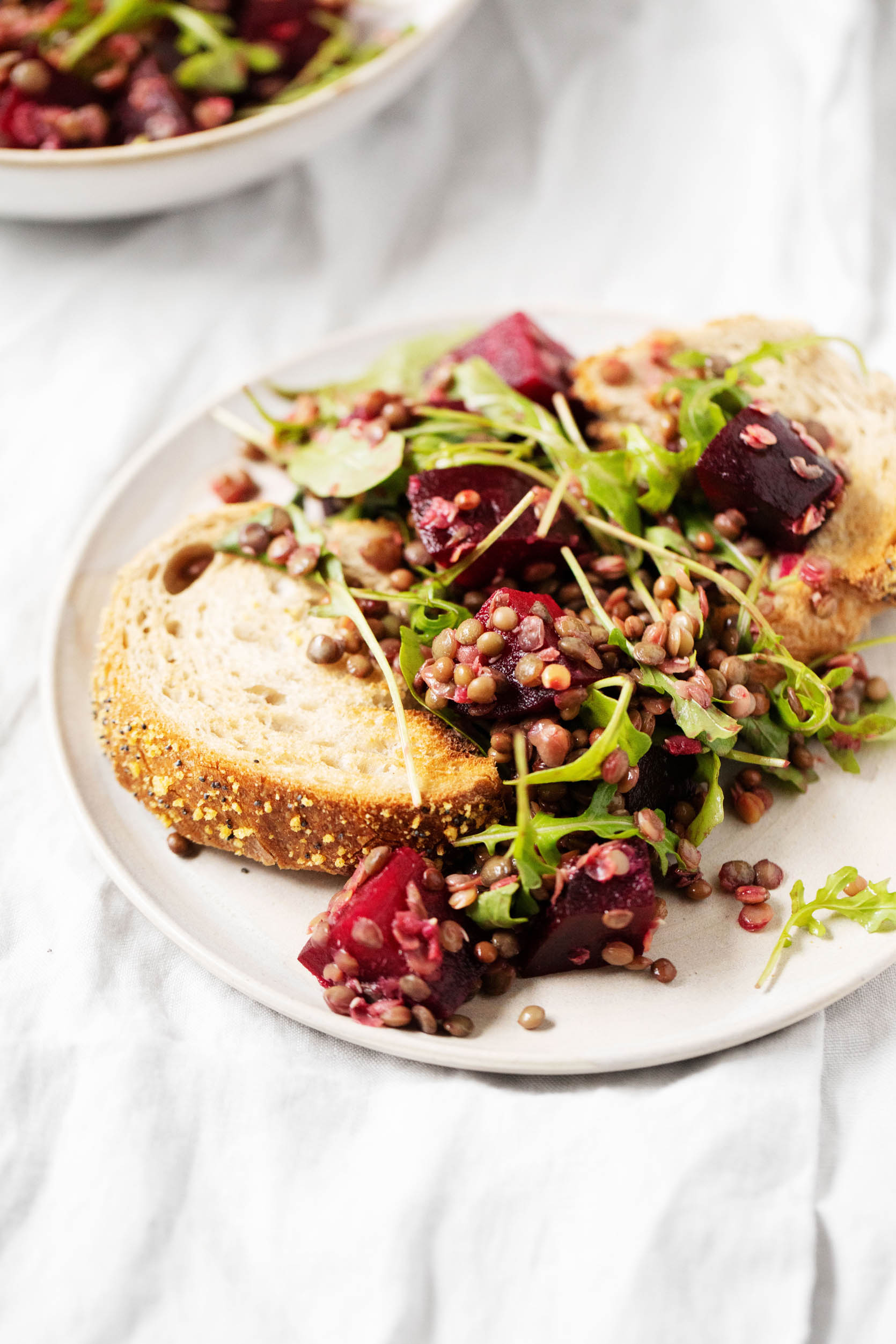 Serving lentil beet salad
I'll put pretty much anything on a piece of toast, but I seem to especially like putting lentils on toast. Sometimes I serve this lentil beet salad with toast, sometimes on top of it. But bread is usually involved.
If toast doesn't appeal, you can serve the salad with steamed or baked red potatoes. You can scoop it up with some seedy crackers or flatbread.
The salad is nice with a cup of pureed soup, like cauliflower, sweet potato red pepper, carrot, or my favorite green soup.
Finally, you can make the salad into more of a meal-sized salad by throwing in cooked quinoa, rice, or farro. You could also add some roasted sweet potato or squash, bread cubes or bread crumbs.
It's a lovely salad all on its own, but it's also a good one to build on.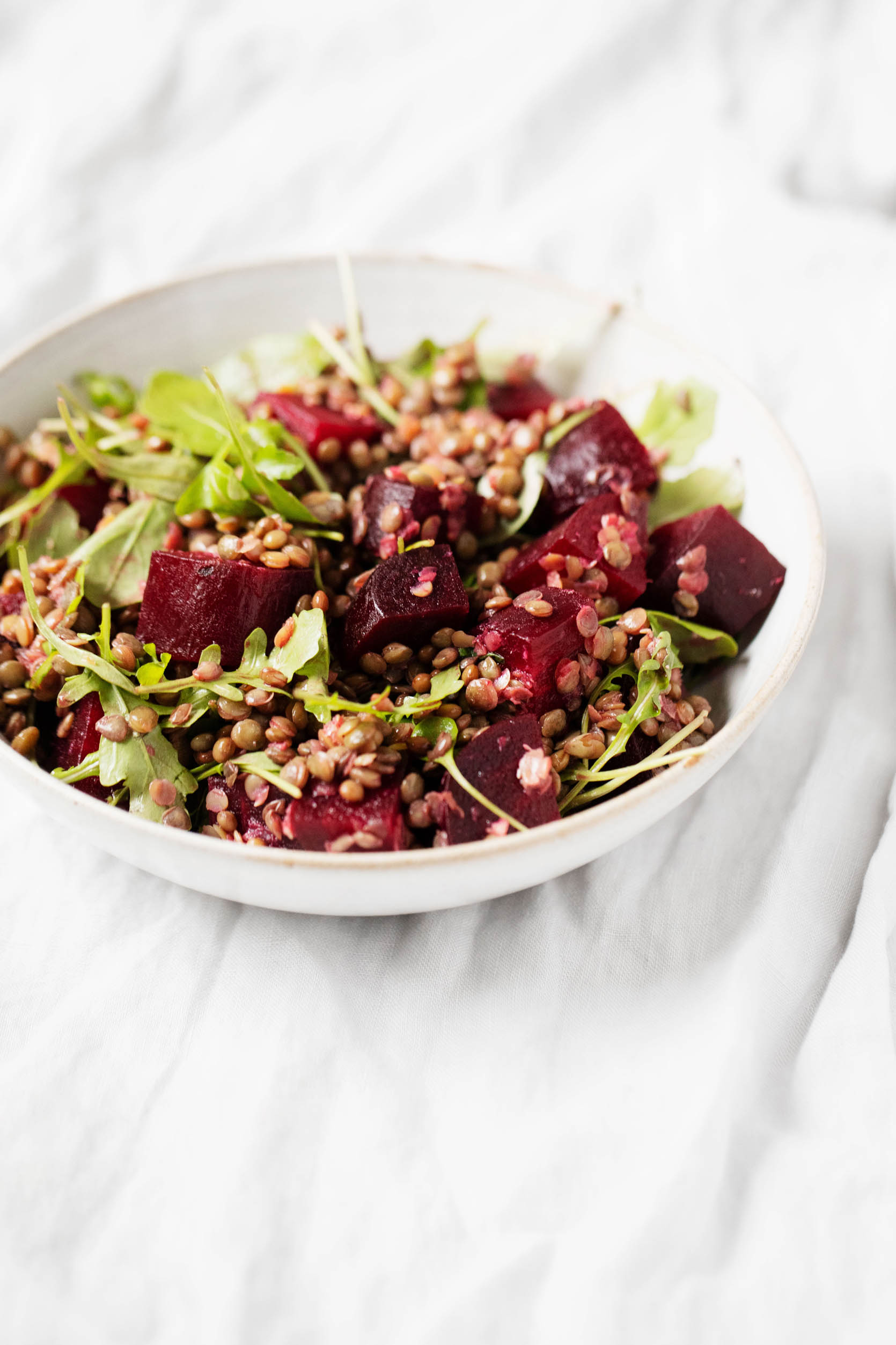 Storing lentil beet salad
One of the upsides of this salad is that the leftovers keep really nicely. You can store them in an airtight container in the fridge for up to two or three days after mixing the salad together.
In fact, I think that the beets and lentils taste even better once they've marinated in the vinaigrette a little. Your arugula might get a little droopy, but it'll still its characteristic bite.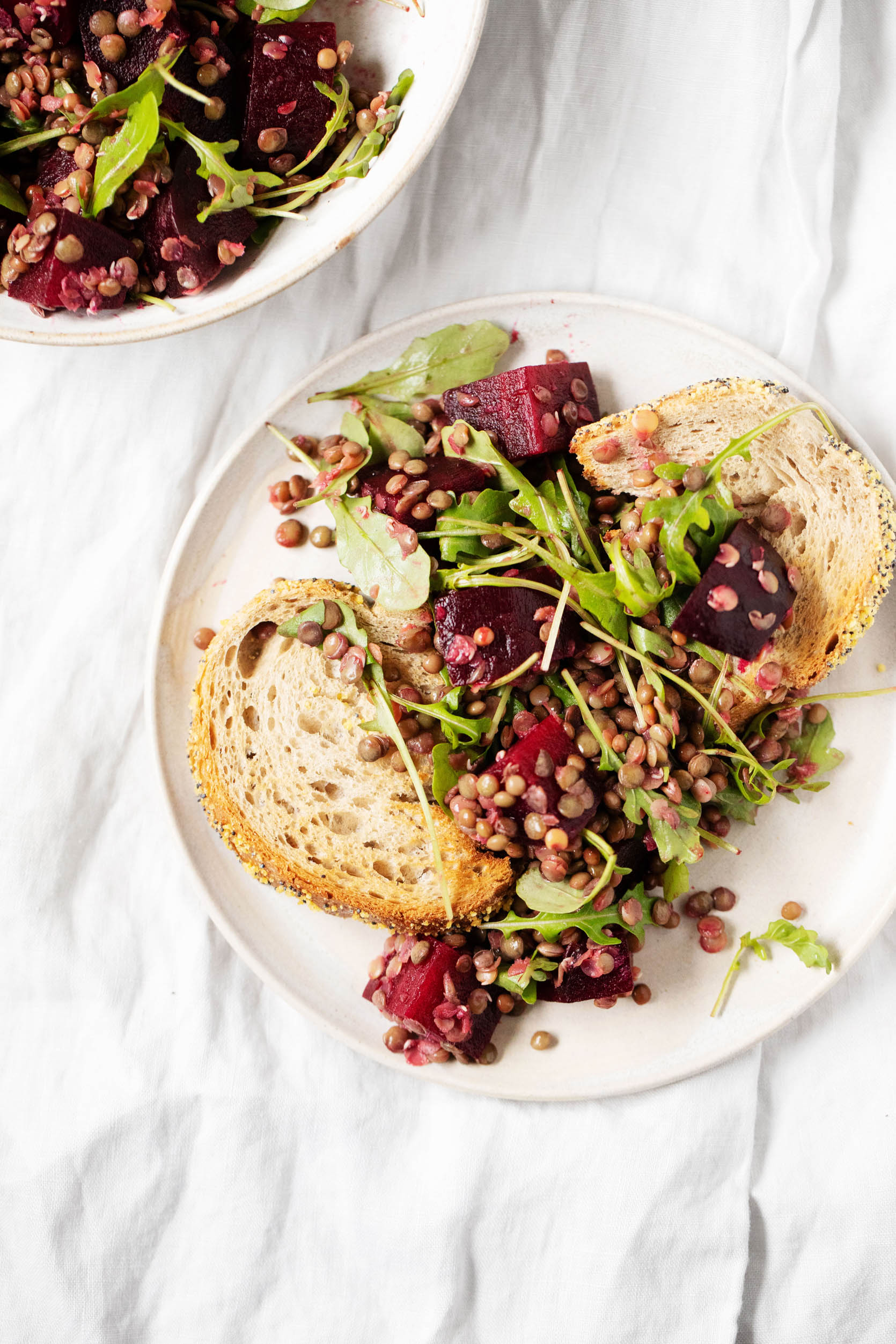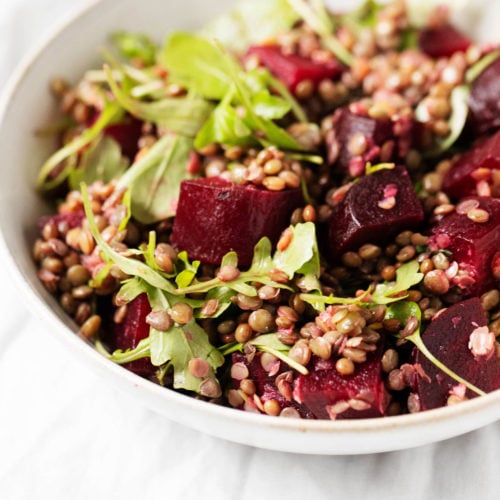 For the salad
4

medium or 3 large beets, trimmed and scrubbed

olive or avocado oil, for rubbing the beets

1

cup

(200 g) dry lentils, picked over and soaked for 1 hour 

(you can use French, brown, green, pardina, or beluga lentils)

A few handfuls torn baby arugula leaves

2

tablespoons

snipped chives

(optional)

Fresh bread or toast, for serving
For the dressing
4

tablespoons

olive oil

2

teaspoons

Dijon mustard

1 1/2

tablespoons

champagne, sherry, or red wine vinegar

(substitute lemon juice)

1/2

teaspoon

fine salt

1

small, finely minced garlic clove

(optional)

Freshly ground black pepper to taste
Preheat the oven to 400F. Rub all of the beets with a light coating of olive oil. Wrap each beet tightly in foil or parchment. Roast the beets for 45 minutes-1 hour, or until they're buttery tender when pierced with a knife. When the beets have cooled for about fifteen minutes, run them under cold water while you slip off their skins. The skins should come off easily. Chop the roasted, skinned beets into pieces that are about 1″ (or a little smaller). 

While the beets are roasting, bring a pot of water to boil. Drain the lentils of their soak water, then add them to the pot. Reduce the heat to medium low and simmer the lentils for 25-30 minutes, or until they're tender but still hold their shape. Drain the lentils, taking care to remove as much cooking water as possible so that they're not watery when you add them to the salad. 

In a small bowl, whisk together the dressing ingredients. 

Add the prepared beets, lentils, and dressing to a large mixing bowl. Toss to combine. Add the baby arugula and chives, if using. Toss again, gently. Serve the lentil beet salad with your favorite toast or bread.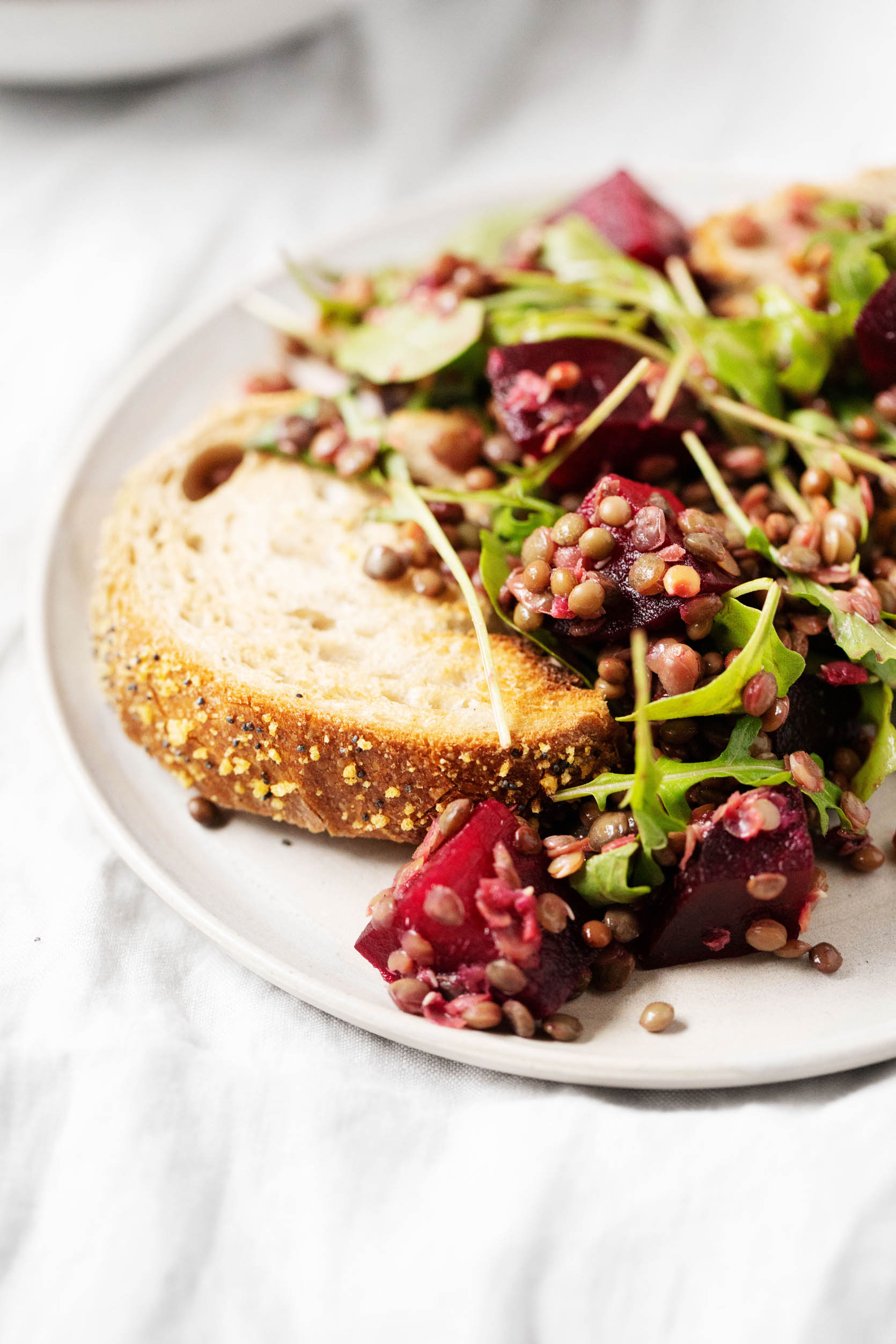 In spite of the fact that this holiday season will be smaller than usual (and my Christmases are usually pretty small to begin with), and in spite of the ever-present pandemic worries, I'm having a fun time with holiday baking and festive recipe ideas.
Even so, it's nice to fall back on something elegant and nourishing every now and then. You know, Between slices of gingerbread, chocolate pear cake, and Christmas cookies.
Lentil beet salad is a good one for those moments. Hope it'll be the refreshing, grounding meal you need, too.
xo