Turmeric Chai Latte Mix | A Homemade, Sweet & Spicy Winter Drink
No coffee shop necessary to enjoy a sweet and spicy winter drink. This DIY turmeric chai latte mix will warm you up at home!
At some point last spring, just when coffee shops were starting to reopen for takeaway orders, I fell in love with a turmeric chai latte at one of my local coffee shops.
It was warming and assertively spiced. But it wasn't aggressive with ginger, as some turmeric drinks can be. The latte was gently sweetened. Creamy and comforting, it was just what the doctor ordered. Especially at that moment in the quarantine experience.
I started to revisit the latte this fall, as the weather got cool again. I'm all for supporting my local businesses. But after a while, I started to wonder whether I could create a homemade version that I loved as much.
This DIY turmeric chai latte mix was born.
I shared the drink on Instagram recently. I was surprised at how many people seemed interested in the recipe. But I shouldn't be. This is a good time for cozy, nourishing beverages.
With that in mind, I thought I'd bring it to the blog, in the hopes that it'll bring warmth and comfort to your winter days ahead.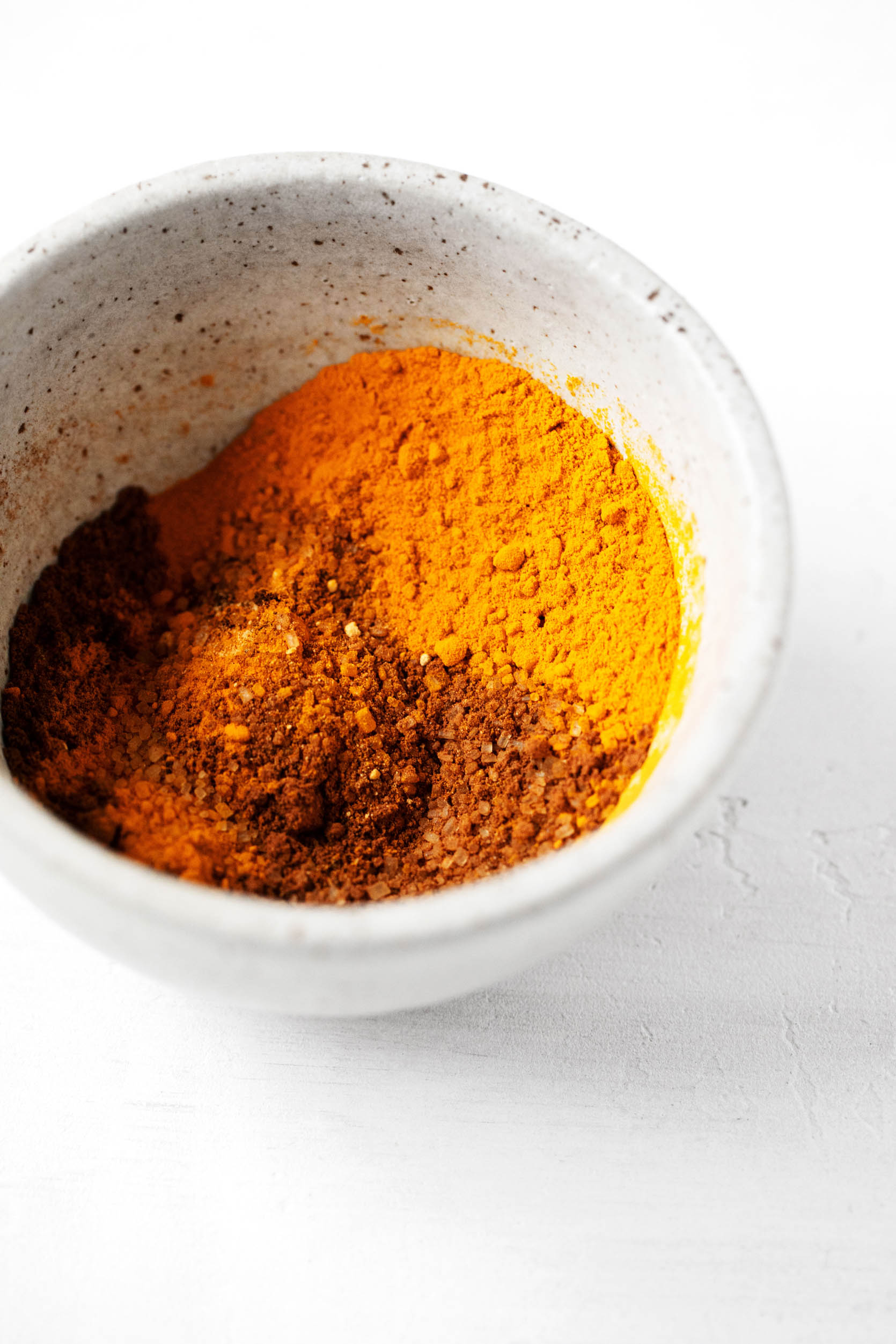 The soothing power of turmeric
Turmeric is clearly the star of this turmeric chai latte mix.
There's a lot to say about the health benefits of turmeric. Turmeric—specifically its active ingredient, which is called curcumin—is associated with anti-inflammatory effects.
For this reason, curcumin supplementation has been associated with pain reduction in a couple studies of osteoarthritis of the knee. It's also been studied for IBD patients, though conclusions are mixed so far.
Curcumin is also an antioxidant. Early studies, based on laboratory research, shows that curcumin may have a beneficial effect in slowing cancer growth. More research is needed, but early information is promising.
There's an optional pinch of black pepper included in this turmeric chai latte mix. Why? Because our bodies seem to absorb curcumin poorly. Piperine, an active compound in black pepper, increases absorption.
When I first made the turmeric chai latte mix, I made it without black pepper. I liked the mild flavor, and I still make it this way sometimes. However, if you want to maximize the nourishing properties of the drink, a pinch of finely ground black pepper will help.
Turmeric chai latte mix ingredients
First, it's important to say that this turmeric chai latte mix is adaptable. The proportions that I'm sharing are what I like best. You can tweak and adjust as needed.
This includes the sweetness and the amount of cardamom and ginger. You might also like to add some vanilla extract to the latte.
Turmeric
I tend to order quite a bit of turmeric at once, because I use it so often. The ground form is convenient and easy to store.
But there are other forms of turmeric to use in drinks and cooking. One is turmeric paste; I like this one, which contains black pepper. Another is, of course, freshly grated turmeric root.
For the purposes of this mix, I recommend ground turmeric. But for what it's worth, I've had success using a teaspoon of turmeric paste, a pinch of cardamom and cinnamon, and a teaspoon or two of coconut sugar for a single serve latte.
Coconut sugar
I use cane sugar and brown sugar in a lot of my baking. But I love the flavor of coconut sugar. It has a deep, almost toasted aroma. And I think it tastes a little like caramel.
You can use coconut sugar, cane sugar, or brown sugar here. Date sugar is another cool sweetener, and I think it tastes like coconut sugar!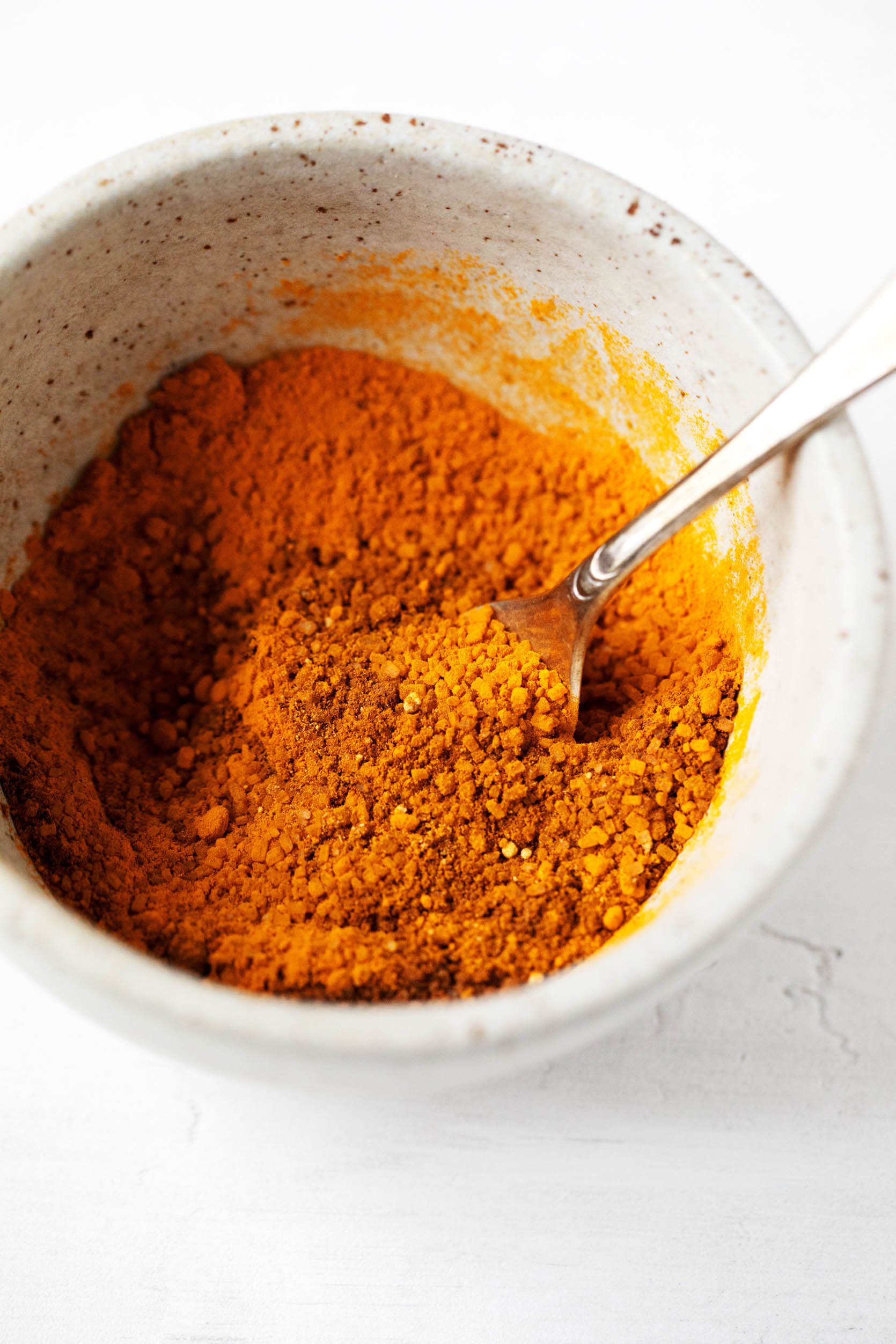 Spice blend
The chai spices here are a mixture of ginger, cinnamon, cardamom, and cloves. Use what you have, and don't be afraid to adjust these a little based on your preferences.
Black pepper
This is optional if you'd like the latte mix less spicy, recommended for the most health benefit. I think that black pepper powder, or a finely ground black pepper, is best for a smoothly textured drink.
More turmeric recipes
Beyond its health properties, turmeric is a versatile spice. I've come to love its slightly bitter, pungent flavor. I use it in many recipes, this chai latte mix included.
A few of my favorites: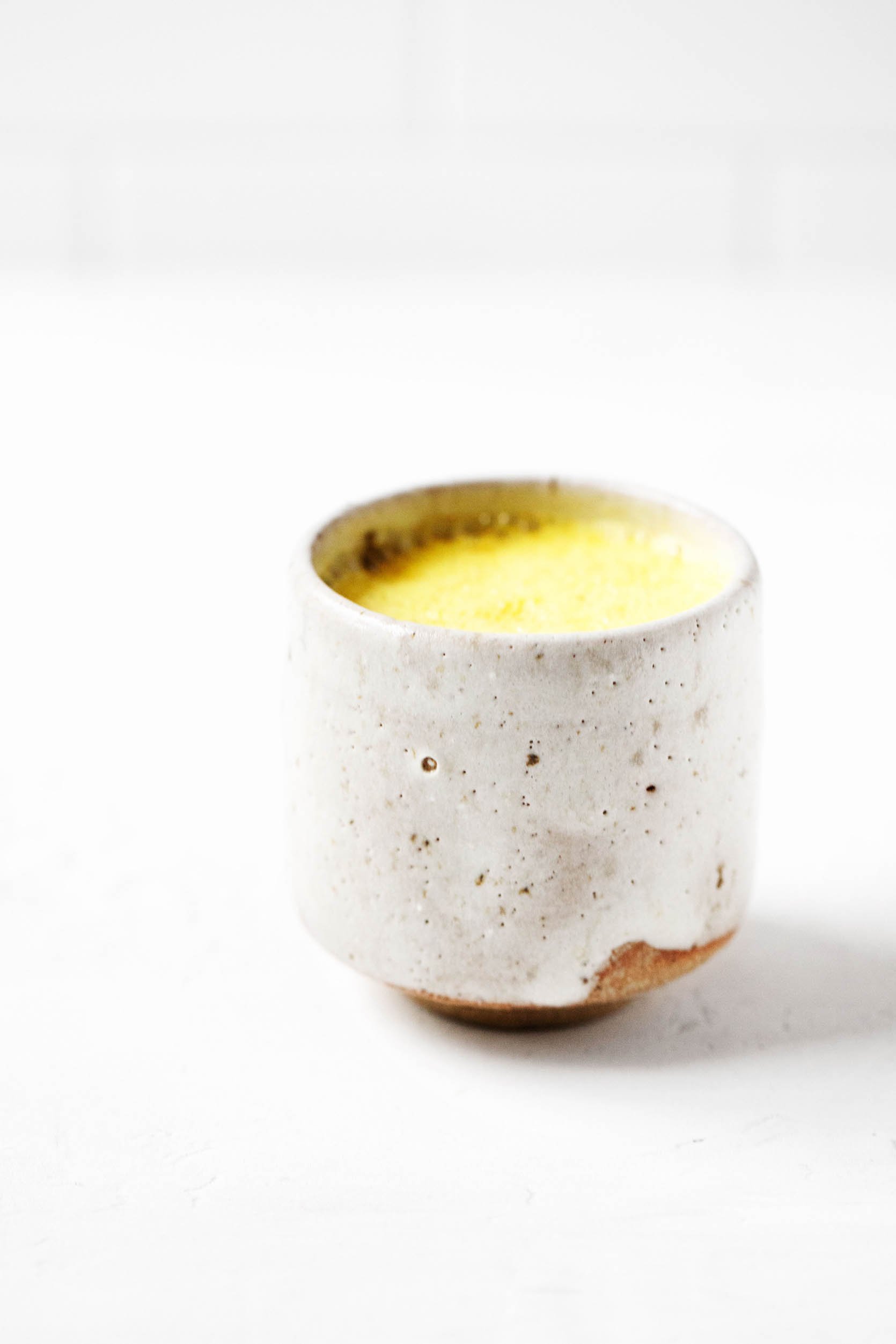 How long with homemade turmeric chai latte mix last?
The turmeric chai latte mix, as written, makes about twelve servings. I recommend storing it in a mason jar or another airtight container.
The mix should last for up to a month or two before it loses any of its flavor—which is definitely enough time to enjoy twelve warming, winter drinks.
Should I grind my own spices?
Grinding spices at home is a wonderful way to ensure that your spice blends are as flavorful and vibrant as possible.
For a while, I was grinding my own blends for kitchari at home, using this grinder. I've fallen out of the habit over time, especially this year.
So no, you don't need to grind your own spices, though your DIY latte mix will be especially fresh if you do. Good, fresh ground spices should give you a similar result.
Lately I've been really impressed with the spices from Burlap & Barrel, a local (to me) company.
Which non-dairy milk works best for the turmeric chai latte?
It's really a matter of preference!
Oat milk has become my favorite for drinks. Not just this turmeric chai latte, but also homemade café au lait, hot cocoa, and more.
Even so, you can pick a non-dairy milk that you love best. Soy milk will give you the most protein per serving. Nut milks—almond, cashew, pecan, or macadamia—are also options.
I generally encourage mindfulness with coconut consumption, because of the saturated fat content. But coconut milk—from the carton, the can, or homemade—tastes really nice with this spice blend.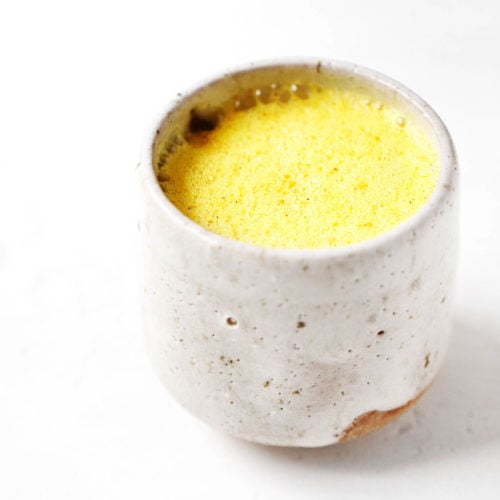 Mix all ingredients together and store them in a sealed mason jar.

To make a latte, add 2 teaspoons of the mix to a small saucepan, along with a cup of your favorite plant milk. Heat on the stovetop till warm but not boiling. Use a frother, if you have one, to make the mixture frothy. Enjoy.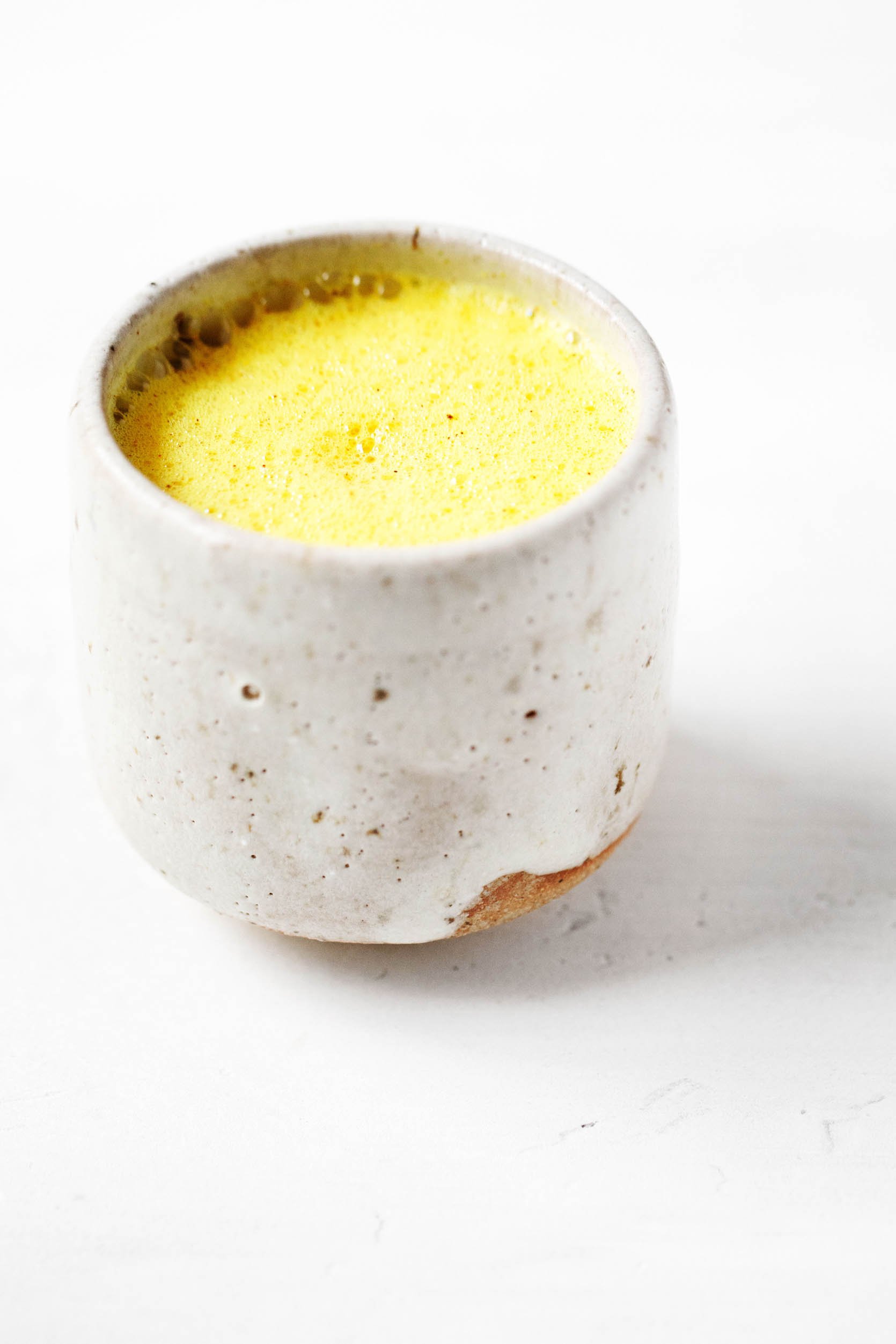 By the way, you'll see an option in the recipe for frothing the milk. This definitely contributes to a coffee-shop-worthy, homemade latte.
I don't have a fancy milk frother and heater. I have a small, handheld frother, which a friend introduced me to last spring when I was visiting her place. It works nicely, doesn't take up much space, and I'm very glad to have it.
No frothing needed for this drink to be delicious and grounding, though. It will be whether you add special finishing touches to it or not. And I hope you'll enjoy it. It's really good company for a work-from-home afternoon break, or to keep you company as you unwind in the evening.
More wintertime goodness soon. Wishing you a cozy day.
xo