Root Vegetable Tofu Bake | An Easy Plant-Based Sheet Pan Meal
This root vegetable tofu bake is an easy, nutritious plant-based sheet pan meal! Serve over your favorite whole grain or greens.
Whether you're doing more cooking than usual this week, or feeling tired of cooking—as many of us are—this root vegetable tofu bake is for you. It's a satisfying, nutritious meal that comes together with minimal work.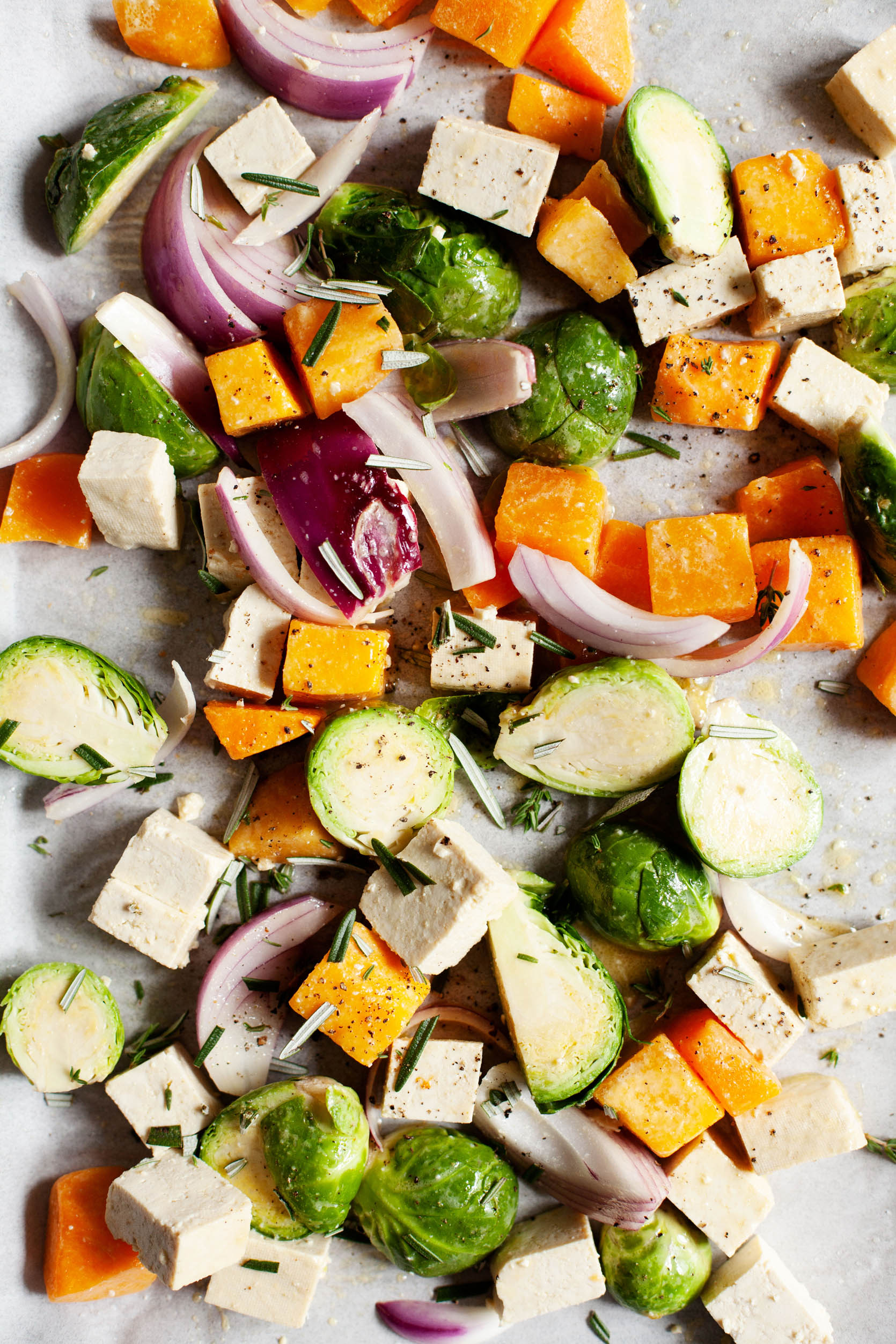 Why sheet pan suppers are the solution to cooking fatigue
With the arrival of fall weather, I've been feeling less burnt out on cooking than I was this summer. But I'm not as inspired and energetic as I usually am, either.
It's been a long year. Many of us are cooking more than usual, and those of us who haven't been may still be exhausted from stress and uncertainty.
Sheet pan suppers are one excellent solution to all of this. They come together with minimal fuss and mess. They allow you to prepare multiple kinds of foods—proteins, starches, veggies—at the same time. You don't have to fuss with multiple cooking vessels and then clean up a sink full of dirtied pots and pans.
When I make sheet pan meals, I usually serve them over a favorite whole grain or with some greens. Or both!
This root vegetable tofu bake included Brussels sprouts, butternut squash, and onion. It was rich in vegetables and the many nutrients they deliver. So, I served it over simple brown rice and called it a meal.
A very flavorful, low-key, autumnal meal.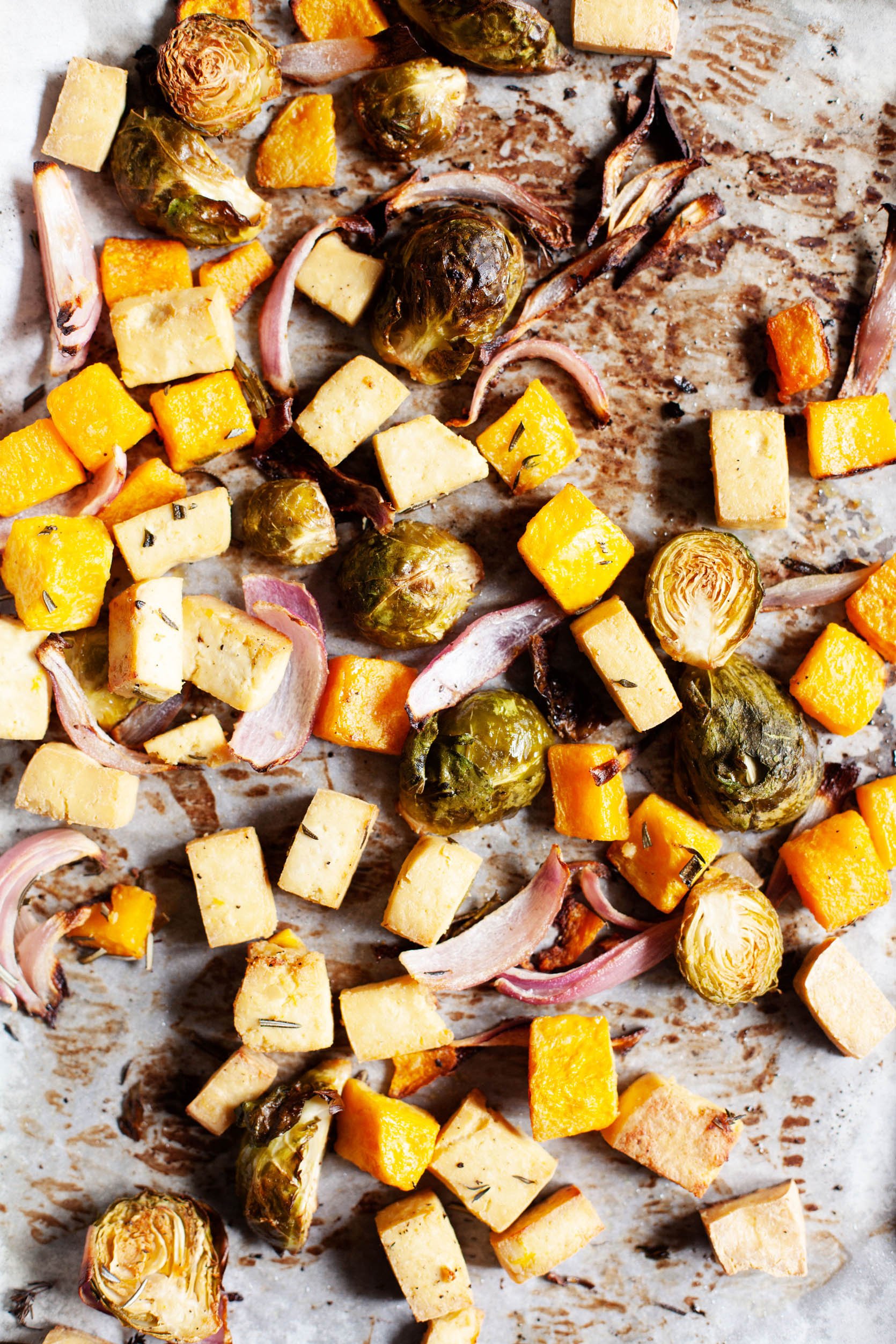 Root Vegetable Tofu Bake Ingredients
Root vegetables
I used butternut squash, which is one of my favorite fall vegetables, in my bake. But you could use rutabaga, celery root, parsnips, or turnips instead. Carrots would also be great here.
Brussels sprouts
Tis the season. I put Brussels sprouts in just about everything at this time of year, from hash to salads to simple pasta dishes. They get a little crispy in this bake, and they also lend the goodness of crucifers to the dish.
You could use broccoli, cauliflower, or Romanesco in place of the sprouts, if you like.
Red onion 
You can most definitely use white or yellow onion in the root vegetable tofu bake. But I love the sweetness of red onion, especially for roasting.
Super firm tofu
The superhero of this meal is Nasoya's Super Firm Tofu!
There's so much to say about why I love this tofu. It's got all of the health benefits of tofu—plant protein, healthful fatty acids, anti-inflammatory phytonutrients—but the texture is special.
Normally, when I use tofu in recipes, I buy firm or extra firm and press the tofu before using. This helps the tofu to absorb flavor, and it creates the dense, toothsome texture that I like.
With Nasoya's Super Firm Tofu, I don't have to bother with pressing. The texture is perfect as is—dense, springy, ready to cook.
Making root vegetable tofu bake
In the spirit of stress-free meal prep, I tried to make this meal as streamlined as possible.
I marinated the tofu and vegetables in an apple cider vinaigrette that also serves as garnish for the dish. Whisk it together, pour most of it over your vegetables and tofu before roasting, and reserve a little for drizzling over your bowls later.
I was also able to roast all of the vegetables and tofu at the same time. This isn't always an option for sheet pan meals. Sometimes one component takes longer to cook than others. But for this root vegetable tofu bake, it worked to have everything cook for the same amount of time.
While the root vegetables and tofu were baking, I made a pot of brown rice to serve them with. You could do this ahead of time, of course, and you don't need to use rice. Quinoa, millet, farro, or couscous would all be lovely here.
I'm a big fan of the Saveur method of cooking short grain brown rice (boil it, like pasta). I often make a pot this way on Sunday, keeping some rice in the fridge for easy meals like this one, and freezing some of it.
Once your tofu and vegetables have roasted, you can enjoy them as they are, pile them in bowls, or use them in meal prep however you like.
I served them with the reserved vinaigrette, but you could pair them with a different sauce, too. I think yum sauce, delightfully green tahini sauce, and balsamic Dijon tahini dressing would all be stellar.
Storing roasted tofu and vegetables
It's easy to store the components of this simple meal: simply place them in an airtight container and pop them into the fridge. My roasted root vegetables and tofu lasted for about four days when I stored them this way.
The vinaigrette can be stored separately. I keep small mason jars around for leftover dressing, and I find them to be very handy.
As this wild year enters its home stretch, I'm more grateful than ever for easy, nutritious dinners. Tofu will always be one of my first picks for a nutrient-dense plant based meal, and this is a new favorite way to prepare it.
You can find the entire recipe on the Nasoya website and you can purchase Nasoya's Super Firm Tofu for the recipe online for convenience. Hope it'll be practical and tasty for you.
One more holiday recipe coming your way tomorrow. Until then, happy cooking, easeful cooking, or super restful no-cooking wishes to you 😉
xo
This post is sponsored by Nasoya. All opinions are my own. Thanks for your support!