Crispy Broccoli Caesar Salad | A Creative Vegan Spin on Caesar Salad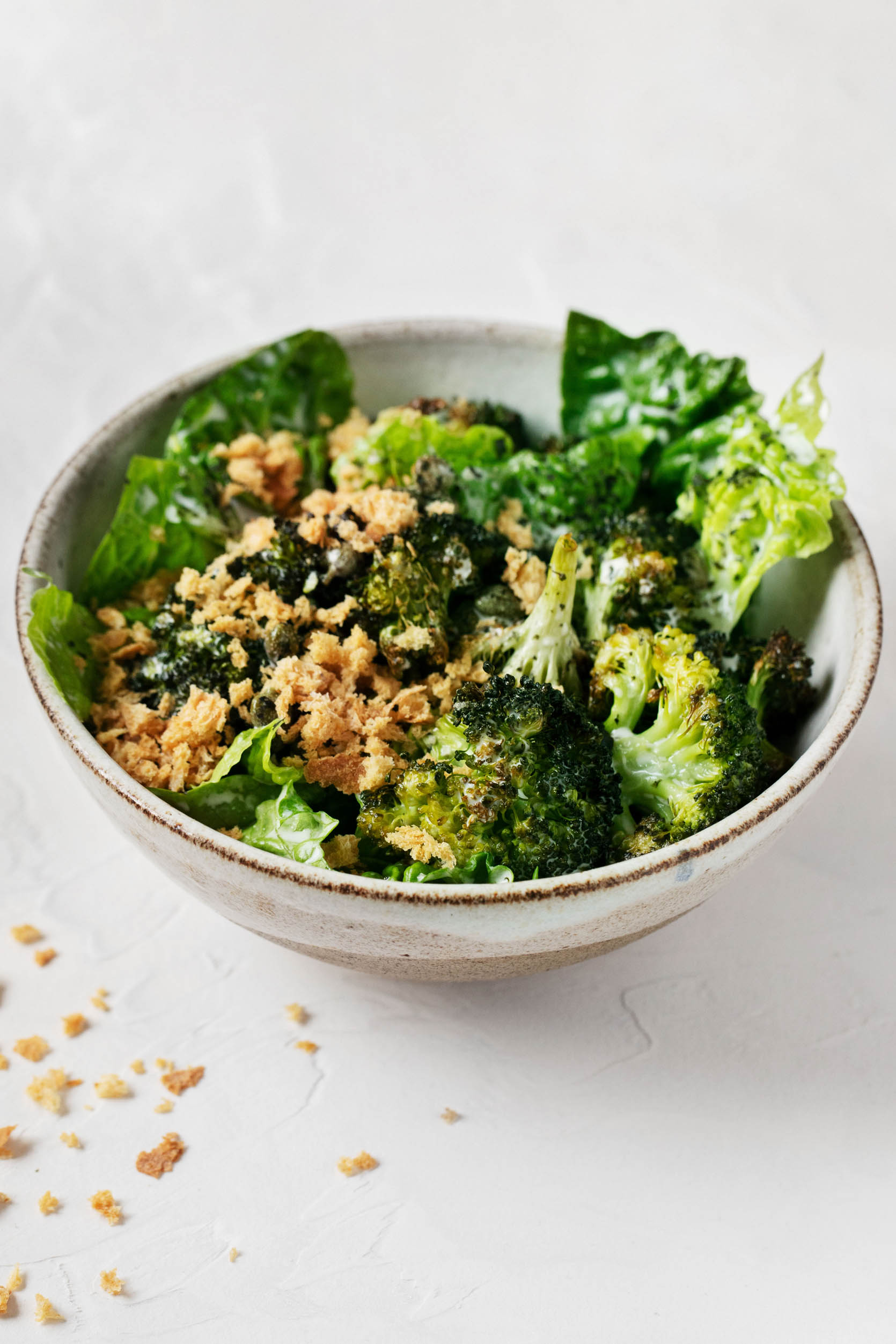 This vegan crispy broccoli Caesar salad is the most satisfying vegetable dish I've made in a while!
Before I get into it, a thank you for the kind words and messages I've gotten in the last week or so. I've been OK. Just focusing on my mom as she copes with a loss and weathering some challenges in my own life. I've missed weekend reading as usual, and I'll be back to it this weekend.
In the meantime, I've been turning to comforting recipes, just as I have through the entire whirlwind of 2020. Salad may not customarily be classified as a comfort food, but I find many salads to be very comforting! This is true of pretty much any panzanella, any pasta salad, my tahini mustard sweet potato salad, my protein-packed bean and quinoa salad, and many other hearty salads that I make regularly. I love greens, and when they're a vehicle for nutritious grains and legumes, I love them all the more.
My crispy broccoli Caesar inspiration
The inspiration for this vegan Caesar comes from Lekka Burger, which is a local eatery in NYC. Lekka burger features traditional diner food: burgers, milkshakes, crinkle fries, and soft serve. Yet all of the dishes are vegan, and they aren't just imitations of traditional fare. They feature global flavors—from a masala burger with crispy pappadum and coconut chutney to zatar sumac fries—and unusual twists, like a halvah milkshake.
When I ate at Lekka Burger for the first time, my favorite two dishes were not, surprisingly, my burger or my fries. Those were both excellent, but I was blown away by the Lekka milkshakes and by my broccolini Caesar salad. The latter featured a nori caesar dressing, smoked crouton crumble, and romaine. It was unexpectedly complex, full of texture and rich in salty, umami-flavor.
I won't even try to recreate Lekka's heavenly milkshakes here at home. (I'd probably need to perfect my vegan soft serve game first.) But I've been thinking about the Caesar salad since I first ate it. Last week, I started to think about how I might be able to make one of my own, inspired by Amanda Cohen's creation.
Something old, something new
This crispy vegan Caesar salad features a dressing that is very familiar and two components that are very new. The first is the crispy broccoli that gives the salad its name.
The Lekka burger Caesar uses broccolini (sometimes called baby broccoli, even though it's technically not), rather than broccoli. I love broccolini for its sweet, mild flavor and the fact that it's so easy to prepare and cook. That said, regular broccoli is usually cheaper and easier to find, which is why I ultimately chose to test this recipe with it. You can use either broccoli or broccolini in the salad, depending on what you have.
It's the broccoli florets that crisp up delightfully in the salad, but I recommend chopping and roasting as much of the stems as you can as well. If you'd like to leave the stems out but save them for another recipe, this broccoli stem stir fry is a favorite of mine.
The other new (to me) twist that I made to Caesar salad is to use fresh bread crumbs, rather than croutons, in the recipe. I loved the way these crumbs worked: they disperse more than croutons, so there's a little bread in every single bite. Making the crumbs involves using your food processor, so if you'd rather have one less thing to clean, you can use croutons instead.
No matter what, you'll start with three slices of bread and cube them. After that, you can blitz them in the processor to make fresh crumbs and roast those, or you can simply transfer the cubes to the oven. The bread roasts along with the broccoli, which helps to keep the preparation process streamlined.
Crispy broccoli caesar salad fixings
Aside from the broccoli and the bread crumbs, I used traditional fixings for this Caesar. The dressing is my Caesar dressing from Power Plates. I love it so much that I don't even bother testing out new vegan Caesar dressings anymore. You may have a little leftover once you finish making the salad. This isn't a problem, I promise! The dressing is terrific on most salads and grain bowls, and it'll keep for up to five days in the fridge.
I also folded vegan parmesan right into the salad, rather than using it as a garnish. My walnut herb parmesan and hemp parmesan are my go-tos, but there are a lot of store-bought vegan parmesans that I like as well. One is Parma, which tastes similar to my homemade versions. For more cheese-like parmesan, I'm a fan of the Follow Your Heart parmesan and Violife parmesan.
Lekka's Caesar uses nori in the dressing. I included seaweed as an optional addition to this broccoli Caesar. It can be nori flakes or crumbled nori sheets, kelp granules or dulse flakes. All will help to replace the subtle but distinctive flavor of anchovy that's usually present in a Caesar salad.
If you don't have seaweed, though, don't worry. A combination of nutritional yeast in the Caesar dressing, vegan parmesan, and capers create a lot of umami in this salad, and it's very flavorful as it is. Anything you'd like to add to the base recipe is simply a way of making it even more vibrant and complex.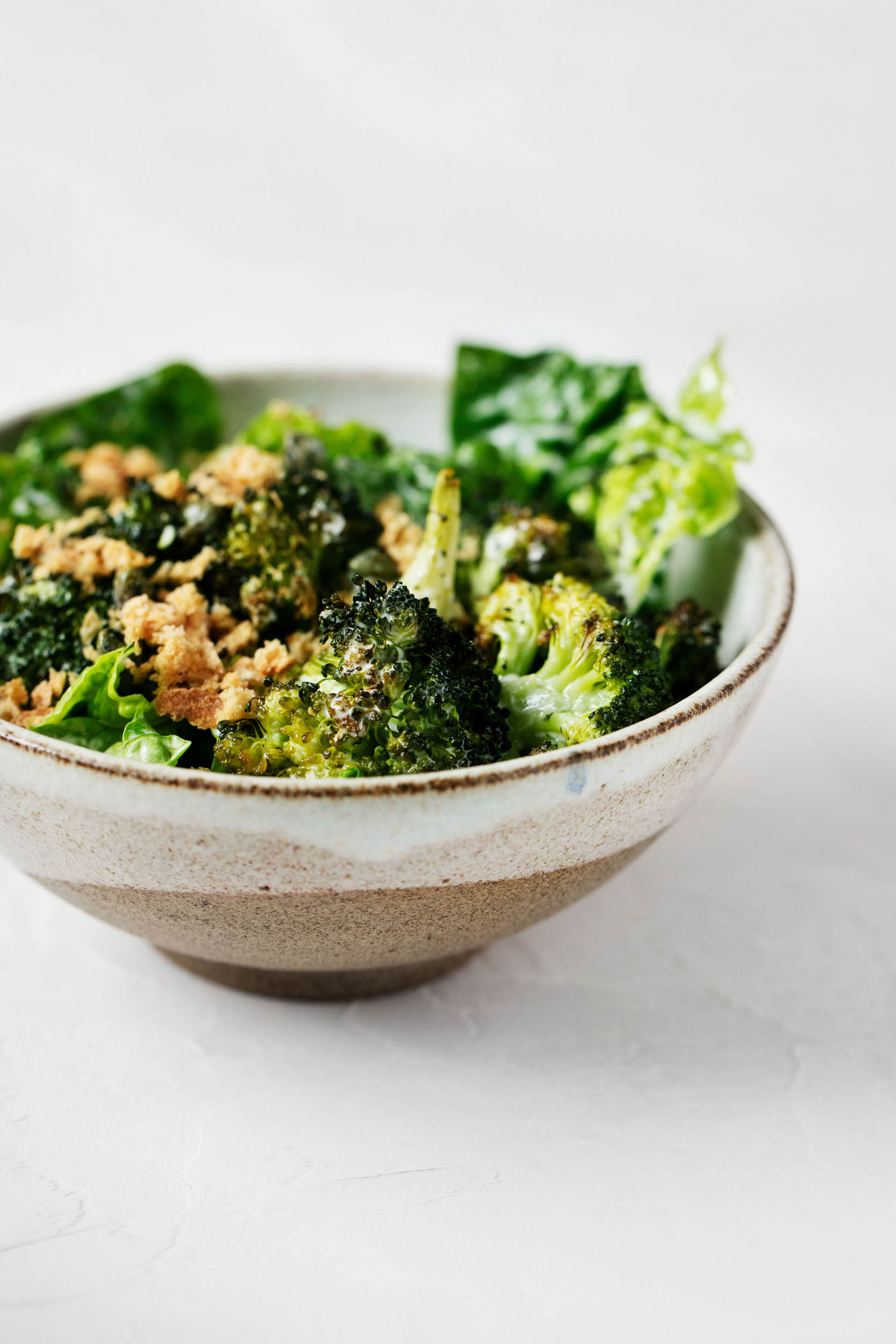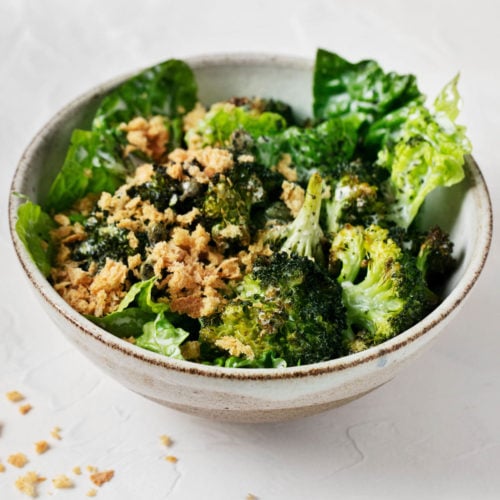 Preheat your oven to 425F and line a baking sheet with parchment. Place the broccoli on the baking sheet and spray it with oil, or drizzle it with oil and use your hands to coat everything evenly. Season the broccoli with salt and pepper.

Next, prepare your bread. If you'd like to use fresh bread crumbs, add the bread cubes to your food processor and process until they're coarsely ground (these should be bigger, rustic bread crumbs, not too finely ground). It should take about 30-45 seconds. Add these crumbs to another parchment lined baking sheet. If you'd like to skip the food processor and make croutons, simply add the cubed bread to another lined baking sheet. 

Transfer the broccoli and the bread to the oven. Toast bread crumbs or croutons for five minutes, stir, and then toast for another 3-5 minutes, or until browning and crispy. Remove the bread from the oven. Roast the broccoli for 25 minutes, or until the stems are tender and the broccoli is browning and crispy.

While the broccoli roasts, prepare the dressing. Combine all ingredients in a high-speed blender or food processor till smooth. You should have around 1 1/2 cups dressing, and you'll use 3/4-1 cup for the recipe. Save extra for other salads or for bowls, or freeze it for up to 6 weeks.

Add the romaine to a large mixing bowl, along with the capers, parmesan, crumbs or croutons, and nori or dulse, if using. Add 3/4 cup dressing and toss well to combine. Fold in the broccoli, then add more dressing as needed until everything is coated well. Serve, with an extra sprinkle of vegan parmesan if you like.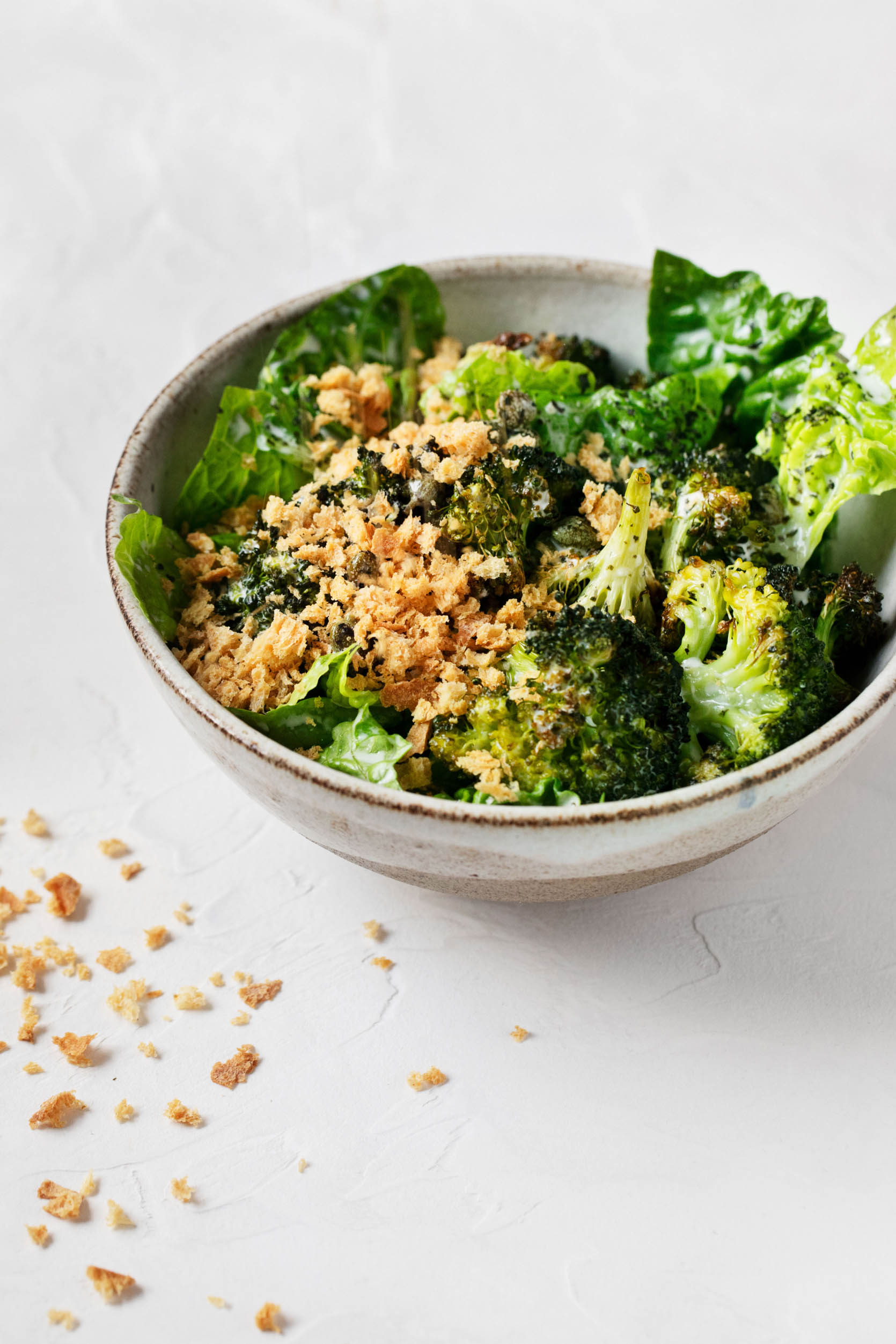 I'm pretty careful about using superlatives when I describe recipes, because my tastes are always changing. And Caesar salad happens to be a recipe that I really, really love, which is why I've made so many versions: quinoa chickpea Caesar, kale and white bean Caesar, and the tempeh Caesar in Power Plates.
Honestly, though? I think this new one really is my favorite. And while I'll probably make other Caesars, I have a hard time believing that any will have this one beat for texture. I'm grateful to Lekka Burger for the inspiration; who knew that broccoli was such a good contender for this recipe? If you make it, I hope you'll love it as much as I do.
And I look forward to Sunday, when I'll sit down and write and reconnect for the first time in a little while.
xo