Vegan Eggplant Baked Rigatoni | A Hearty, Homemade Baked Pasta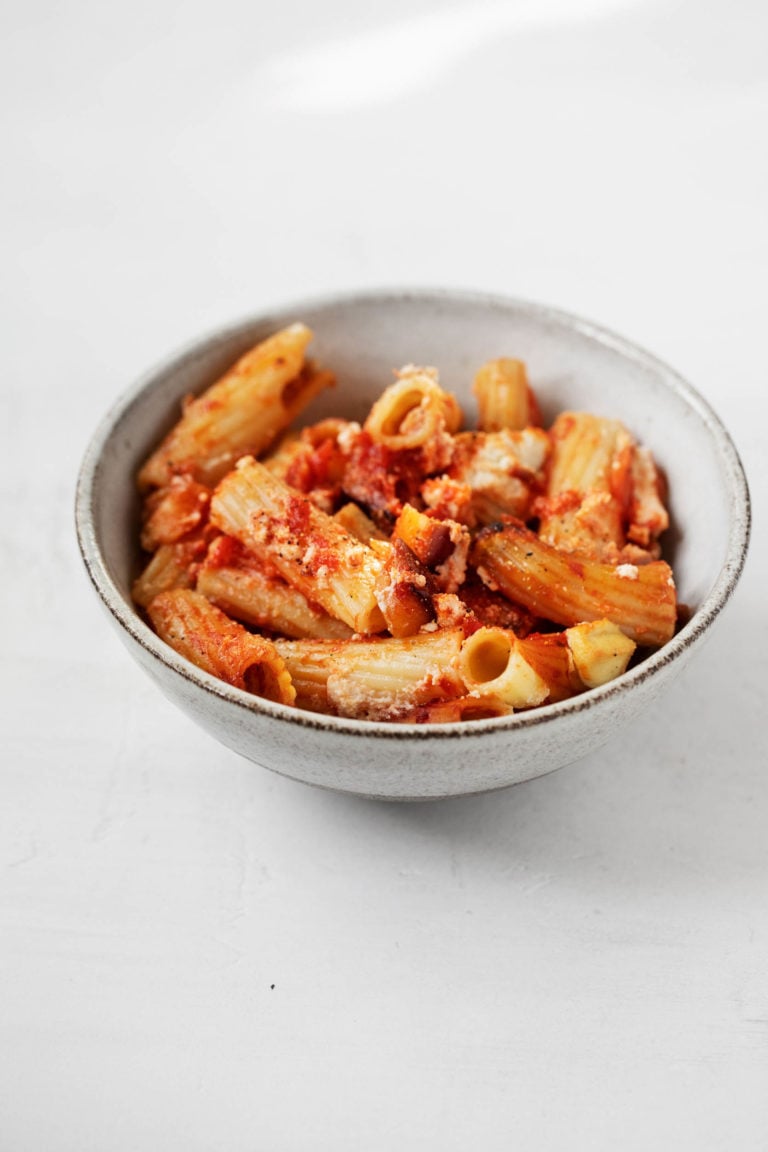 This vegan eggplant baked rigatoni is the most perfect pasta dish for early fall. It's a cross between Pasta alla Norma and baked ziti, and it's a delicious way to use up your eggplant while satisfying your comfort food cravings.
I'm sort of embarrassed to admit how tired I feel of cooking right now. In the early weeks of quarantine last spring, I was hooping that the stay-at-home time would inspire me to get especially creative in the kitchen.
That hasn't happened at all. 100% of the dishes I've craved in 2020 fall into the category of comfort food. About 50% of them are dessert. The other 50% is a mix of pasta and bread, with only a smattering of other foods thrown into the mix.
It is what it is. I've learned that I can't force myself to get excited about food that I'm genuinely not craving. It never works, and if I force myself to cook dishes only for the sake of variety, I usually end up making a mess of them. Better to go with the flow, until the flow changes!
Comfort food, quickly
Baked pasta dishes are usually something of an undertaking. This one is pretty low key, all things considered. Using a store-bought marinara sauce makes a big difference. I like making marinara at this time of year, but I think that the tastiest batches require time. I've also noticed that my best homemade marinara is usually no better than store-bought versions, and honestly, it's often less good.
So, I've been relying on Rao's lately, and a few other local brands (I like Michael's of Brooklyn, too). The time saved is usually worth it for me, and that's definitely true in this recipe. Using store-bought marinara will allow you to focus on making a homemade vegan ricotta—which I think it's totally worth the effort—and on assembly.

Vegan Eggplant Baked Rigatoni Ingredients
Vegan ricotta
The vegan "ricotta" in this eggplant baked rigatoni is basically a hybrid of my go-to cashew cheese and the tofu ricotta from Power Plates. The cashews give the ricotta richness, while the tofu helps to keep the texture light. Regular cashew cheese is a little too dense to be a stand-in for ricotta, while tofu isn't quite creamy enough. Together, they're perfect.
Marinara
Use your favorite brand in the recipe, or—of course!—use your own. You'll want just over 3 cups, the same as a 25-ounce jar of sauce.
Eggplant
I used a decent sized globe eggplant in this recipe, just about 1 1/2 pounds. You can use two smaller eggplants, too.
As I mentioned recently when I posted stewed eggplant tomato lentils, I'm a big believer in salting eggplant. I know it's not everyone's preference, so if you'd really prefer to skip the step, go for it! If you have the time, I think it's worthwhile for texture and flavor.
Pasta
Sure, this is eggplant baked rigatoni, but any tube shaped pasta will work nicely in the recipe. This includes rigatoni, ziti, penne, and reginelle. I think it could also work well with larger shells or macaroni.
Prepping and storing eggplant baked rigatoni
The baked rigatoni will be easiest to prepare if you have the tofu and cashew ricotta made ahead of time. I've made the dish twice now, and that's how I chose to prepare it each time.
Once the rigatoni is baked, you can store the leftovers for up to five days in an airtight container in the fridge. Like many baked pasta dishes, this one also lends itself well to freezing. You can freeze individual portions (or however much you'd like to freeze) for up to six weeks.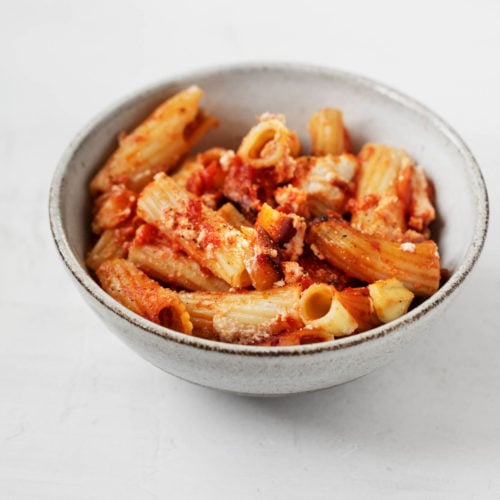 For the pasta:
1

large or 2 small globe eggplant

10

ounces

ounces (285 grams, or about 3 1/2 cups) ziti, rigatoni, or penne

1

tablespoon

olive oil

Kosher salt and freshly ground black pepper

25

ounces

(3 cups) of your favorite store-bought or homemade marinara sauce
For the ricotta:
2

ounces

(60 g, or a heaping 1/2 cup) raw cashews, soaked for several hours and drained

2

tablespoons

freshly squeezed lemon juice

2-3

tablespoons

water

14

ounces

(1 average sized block) extra firm tofu, pressed gently to remove excess moisture

2 1/2

tablespoons

nutritional yeast

3/4

teaspoon

kosher salt

1/8

teaspoon

freshly ground black pepper
Preheat the oven to 350F and lightly oil a 2.5 or 3 quart rectangular casserole dish.

Trim and cut the eggplant into 1-inch cubes. Place it into a colander. Sprinkle it generously with salt, then allow it to sit for 25 minutes. Rinse the eggplant well, then pat it dry firmly. 

To make the ricotta, place the cashews, lemon juice, and two tablespoons water in a food processor fitted with the S blade. Process the mixture for about a minute, stopping once to scrape the bowl down. When the cashews have been broken down (they don't have to look smooth at all, just ground up), add the tofu, nutritional yeast, salt, and pepper. Continue processing for 2-3 full minutes, a few times to scrape the processor bowl down. Stop when the mixture is smooth and resembles something like ricotta, only thicker. Add an extra tablespoon water if needed to achieve a creamy consistency. Set the ricotta aside.

Bring a large pot of salted water to boil and cook the pasta according to package instructions, till it's al dente. Drain. 

While the pasta cooks, heat the olive oil in a large deep skillet over medium high heat. Add the eggplant. Allow it to sizzle for 4-5 minutes, until it's just starting to brown. Reduce the heat to medium low. Continue cooking the eggplant for 8 (or so) more minutes, until it's meltingly tender. If it's not cooking quickly enough, try covering the skillet for a minute or two. 

When the eggplant is cooked, add the pasta and marinara sauce to the skillet. Mix and heat everything through. 

Layer a third of the pasta mixture into your casserole dish. Dot this with a third of the ricotta, using a knife to spread the ricotta around a bit. Cover this with another third of the pasta and ricotta. Finish with a layer of pasta and lightly dot the top with the remaining ricotta. Transfer the casserole to the oven and bake for 30-35 minutes, or until hot and bubbly. Serve.
Normally when I make vegan baked pastas or lasagnas, I top them with vegan cheese shreds or a homemade alternative (like a cashew cream sauce). The nice thing about this baked rigatoni is that the tofu cashew ricotta is substantial, and there's a lot of it in the recipe. It adds so much creaminess that you don't really have to worry about a melted cheese.
I'm still battling ambivalence about cooking here, hoping that my sense of inspiration comes back to me soon. Until it does, it's nice to have meals that soothe my spirit and feel homey. This is one of those. Hope it'll give you the same feeling.
xo