Vegan Corn Pudding | A Sweet and Savory Plant Based Side Dish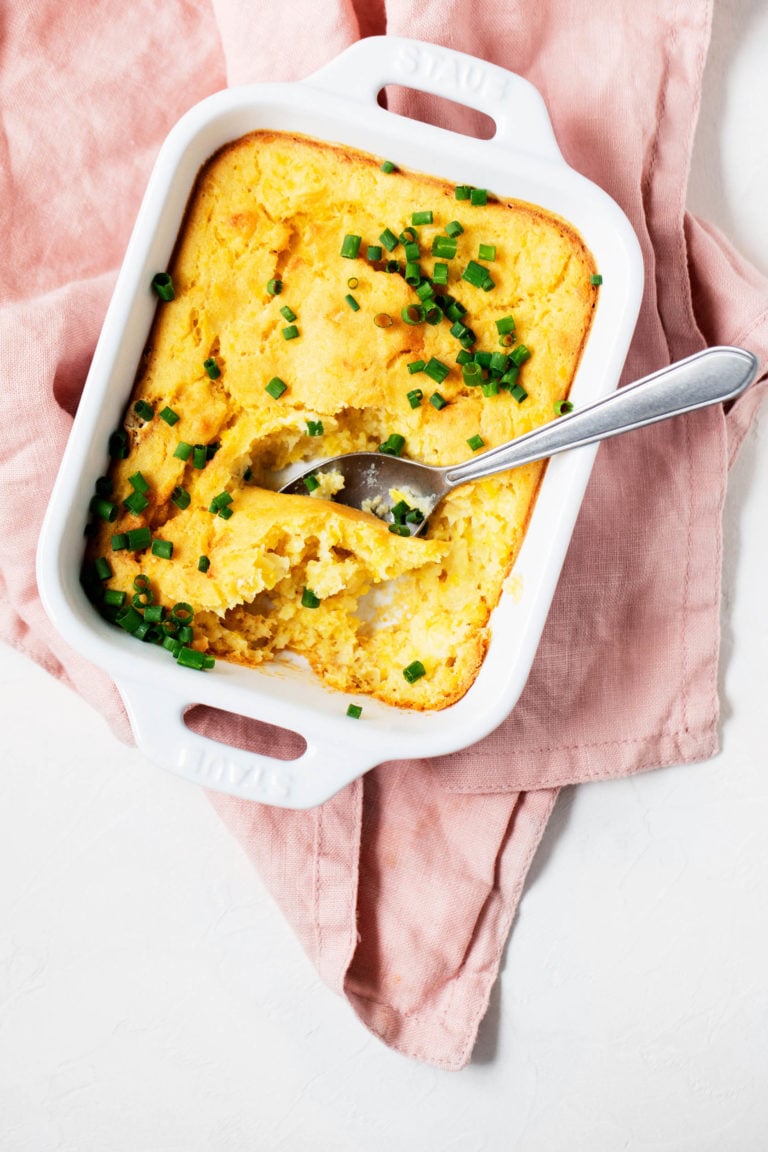 I know I just posted corn chowder, but it's still corn season here, which means sweet corn is still on the menu. This vegan corn pudding is an easy, multipurpose side dish that straddles the space between savory and sweet.
Pudding vs. casserole vs. soufflé
I recently got Toni Tipton-Martin's wonderful cookbook, Jubilee. Martin has a recipe for corn pudding that she describes as "a way for families to enjoy corn in a lush custard." She also notes that corn pudding is also sometimes known as corn soufflé, which "gives you a sense of how refined and light it can be."
Martin bases her recipe on Carla Hall's recipe, which involves beaten egg whites and a stir halfway through baking. The recipe that I'm sharing today isn't nearly as light as the recipe that Martin describes. Truthfully, it may be closer to a corn casserole than a corn soufflé.
I did a little more reading as I looked into making a vegan corn pudding of my own. I found that the distinctions between pudding, casserole, and soufflé were a little difficult to parse. This article describes corn pudding as a type of casserole. It goes on to say that corn pudding is a "cross between cornbread and a soufflé," and "[i]t can lean sweet or savory, depending on how you like it."
Keep it simple
My vegan corn pudding is a little more sweet than savory, but it's definitely a bit of both. It's closer to cornbread than soufflé. This is a matter of preference—I like the substantial texture—and it's also what happened as I was recipe testing. I kept trying elaborate ways to replace eggs, from beaten aquafaba to silken tofu.
The more I fiddled in an effort to get something that was genuinely soufflé-like, the mushier and heavier my corn puddings became. When I switched approaches and tried something much more simple—basically, a soft/wet cornbread dough—I ended up with this vegan corn pudding.
It was less luscious and silky than what I had imagined, but it was delightful in its own way. Think cornbread that's tender enough to scoop up with a spoon and serve alongside some baked tempeh, chipotle lentils, tofu scramble, or vegan chili. It would be an awesome Thanksgiving side dish, not to mention a nice savory/sweet breakfast.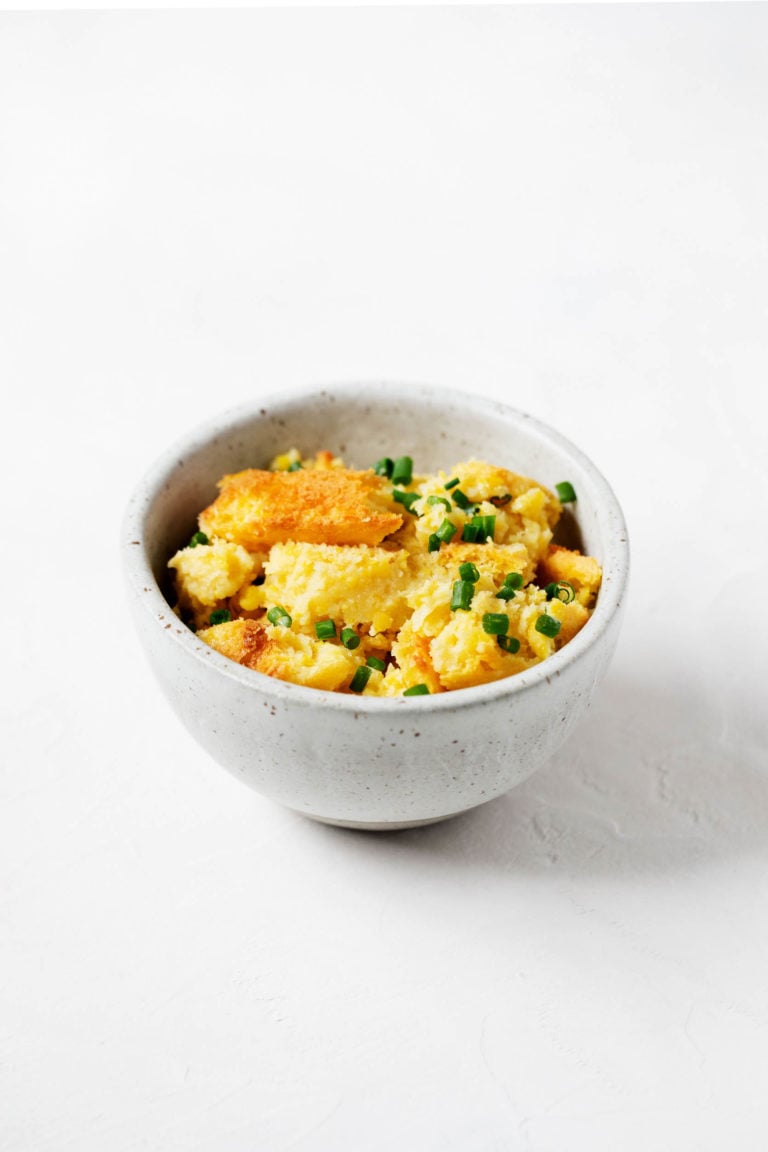 Vegan corn pudding ingredients
Vegan "creamed corn"
A lot of corn pudding or corn casserole recipes call for canned, creamed corn. So far as I know, some brands are actually vegan, but I found that it was easy to make a homemade version for this vegan corn pudding recipe. I did this by heating vegan butter, corn kernels, and non-dairy milk in a pot, then using an immersion blender to blend them up. Not difficult at all, and probably fresher tasting than the canned version.
Flour
I like unbleached, all purpose flour for this recipe. But if you'd like to make it gluten free, you can certainly use a gluten-free, all purpose flour blend. I really like King Arthur's Measure for Measure. While I often make cornbread with whole grain flour, I really prefer all purpose for this recipe. It helps to keep the texture light and tender, as it's supposed to be.
Cornmeal
Medium or fine grind cornmeal will work best for this recipe. I tested it with corn flour, too, because I sometimes like to make cornbread with corn flour in place of corn meal. That version was dense, rather than tender, so I'd definitely recommend sticking to cornmeal if possible.
Vegan yogurt (or sour cream)
You can use either a plain/unsweetened vegan yogurt or vegan sour cream to prepare the vegan corn pudding. Both are available more widely than ever, and they'll both work well. The yogurt or sour cream help to keep the corn pudding moist, and their acidity will also help to activate the baking powder and make the pudding rise.
Storing and serving corn pudding
I think the corn pudding tastes best when it's fresh out of the oven, warm and sweet smelling. Still, it's a recipe that you can make a day or two in advance, especially if you plan to contribute it to a holiday table. If you do prepare it in advance, simply cover it and store it in the fridge till you're ready to reheat. I recommend reheating the pudding in the oven: it's best warm, and the oven will preserve its texture better than the microwave.
I haven't yet tried freezing the pudding, because it's a new-for-me recipe. But I'm guessing it could be frozen for at least four weeks. And when I try it—as I know I will, because I plan to make this again—I'll let you know!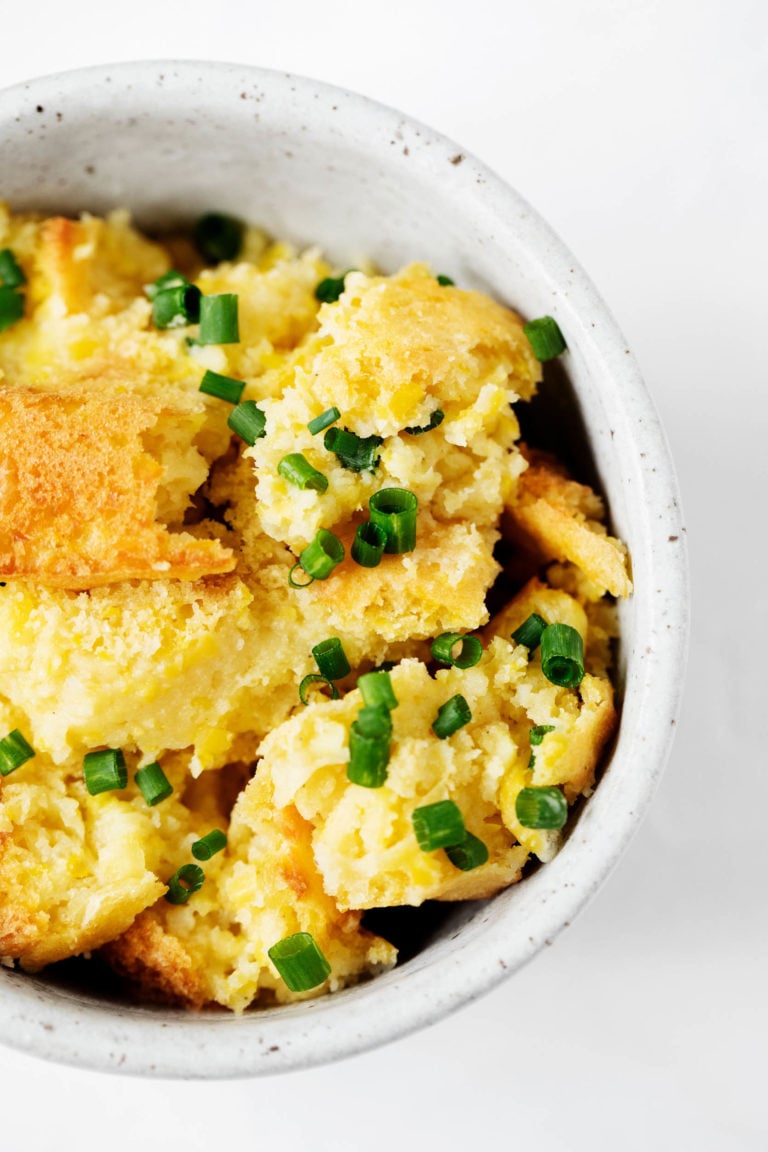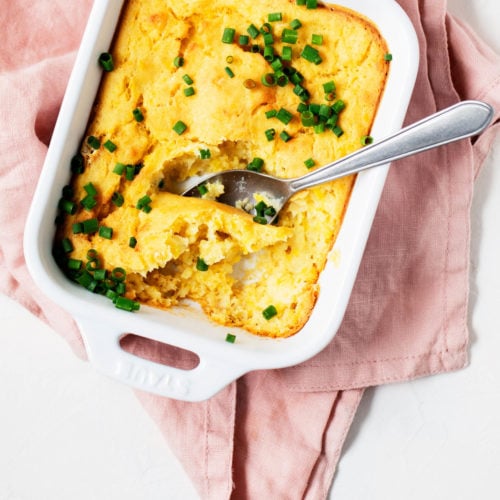 2

tablespoons

(28 g) vegan butter

2

cups

fresh or frozen and defrosted corn kernels, divided (about 3 ears of corn)

1 1/4

cups

(355 mL) unsweetened, non-dairy milk

2/3

cup

(80 g) unbleached, all-purpose flour

1/2

cup

(75 g) cornmeal

2 1/2

teaspoons

teaspoons baking powder

1/2

teaspoon

Kosher salt

3

tablespoons

 (36 g) cane sugar

3/4

cup

(150 g) plain/unsweetened vegan yogurt or vegan sour cream

fresh, snipped chives, for serving
Butter or oil a 9 x 9 square or 2.5 quart rectangular baking dish and preheat your oven to 350F.

Heat the butter in a skillet or frying pan over medium low heat. Add 1 1/2 cups of the corn and 3/4 cup of the non-dairy milk. Heat through, then use an immersion blender to blend the mixture partially. It should have some texture but few visible, whole corn kernels. 

In a large mixing bowl, whisk together the flour, cornmeal, baking powder, salt, and sugar. Make a well in the center of the dry ingredients.

Stir the remaining 1/2 cup non-dairy milk and the vegan yogurt or sour cream. Pour it into the dry ingredients, followed by the warm pureed corn mixture and the remaining 1/2 cup of whole corn kernels. Fold everything together until the batter is evenly incorporated and no streaks of flour are visible (little lumps are fine). 

Transfer the batter to the baking dish. Bake for 35-40 minutes, or until the top is just set and the edges are just browning. Serve warm.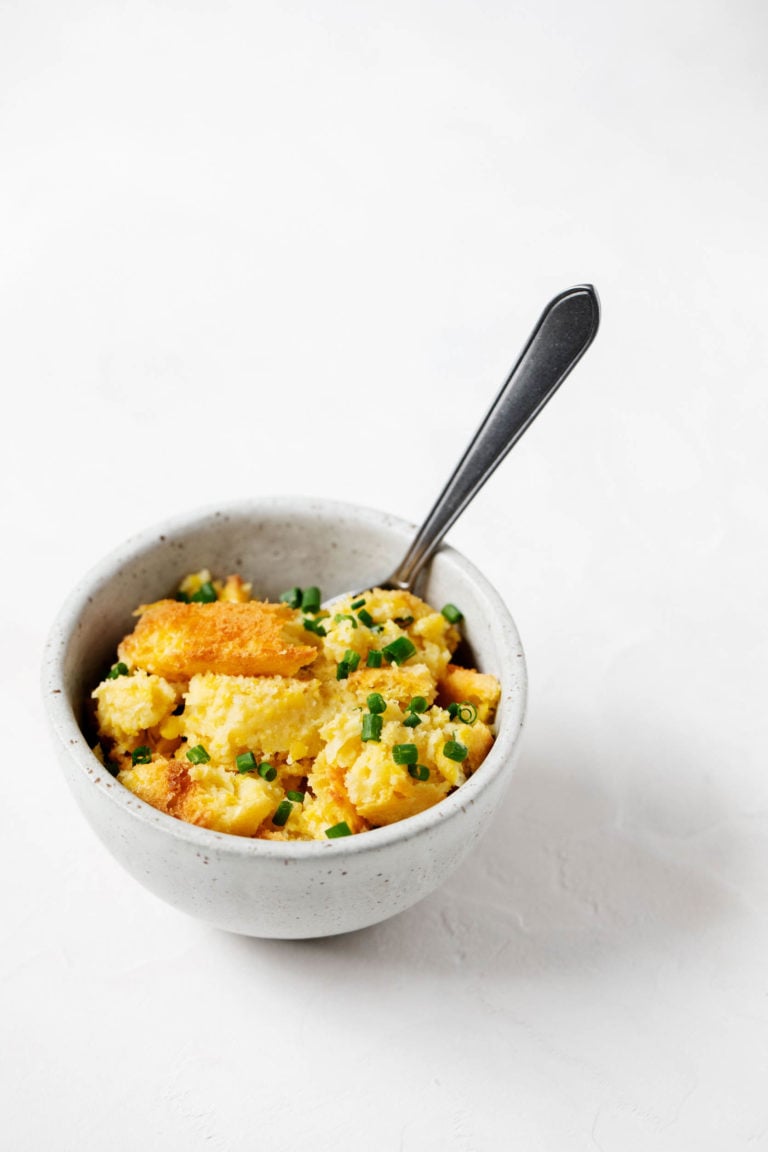 I know that Thanksgiving and the fall holidays are still pretty far off. Then again, September felt very far away back in June, and June felt very far away when quarantine started in March. I still remember thinking that things would be back to the old normal by the time I celebrated my birthday! This year has been both creeping and amazingly swift.
For now, here's to September, the change of the seasons, and taking it day by day. Till Sunday.
xo