Classic Vegan Pumpkin Bread | A Timeless Treat for Autumn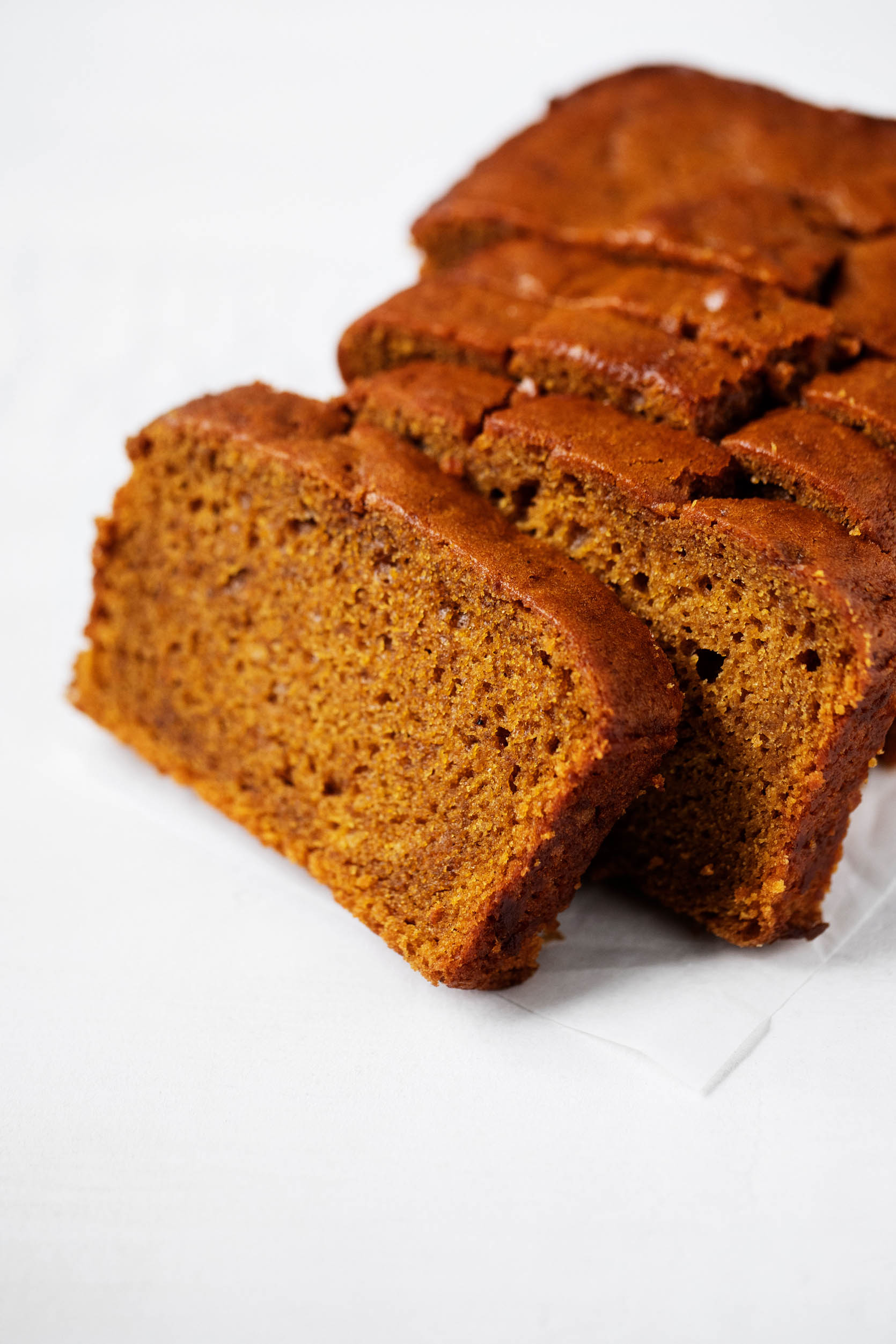 No frills and nothing fancy: just a perfectly moist, classic vegan pumpkin bread!
Pumpkin season kicked off last month. I kept trying to think of cool and creative things to do with my cans of pumpkin purée. But the first thing I really craved was a thick slice of pumpkin bread—no glaze, no add-ins, no frills—to be served with a cup of coffee. It's a classic for a reason, right?
Components of a classic pumpkin bread
The right amount of sweetness
Unlike banana bread or banana muffins, pumpkin bread doesn't contain a sweet fruit. And I don't use applesauce as a liquid ingredient, as I do in a lot of baking recipes. The sugar here provides most of the sweetness, along with some natural sweetness from the pumpkin. For me and my taste buds, this loaf is perfectly sweet.
The right amount of moisture
Speaking of sugar, I use brown sugar in the recipe, which helps to keep the pumpkin bread extra moist. (If you're out of brown sugar, cane sugar and coconut sugar are fine to substitute.) But the main reason that this loaf has such a lovely, tender texture is of course the pumpkin itself, which keeps the bread moist as it bakes. I used an entire cup of pumpkin purée in the bread, which makes it possible to only use 1/3 cup of oil.
No frills, no fuss
I like loading up my quick breads with fun add-ins as much as the next person. I've dumped dark chocolate chips, every type of chopped nut, chopped dates, and raisins into my muffins and quick breads. I've done pumpkin bread with chocolate swirl.
Honestly, though? I like an unadorned pumpkin bread best. I've seen glazed pumpkin bread and pumpkin bread with walnuts or pumpkin seeds. But when I set out to make this classic vegan pumpkin bread, I wanted it to be as simple. I wanted the pumpkin to shine through, and nothing else.
I guess this is a reflection of what I need and want from food lately: the comforting, familiar, and un-fussy.
Using pumpkin pie spice
I usually stock up on pumpkin pie spice at this time of year (King Arthur's is my go-to). It's perfect for so many fall baking recipes, from crisps and crumbles to scones and quick breads. Admittedly, I usually have its component spices in my pantry, but it's an easy way to season recipes without having to open up lots of different jars.
With that said, you can easily substitute pumpkin pie spice in the recipe as directed. Or, if you'd like to make a big batch of your own and keep it in your pantry through baking season, here's a good DIY tutorial from Sally.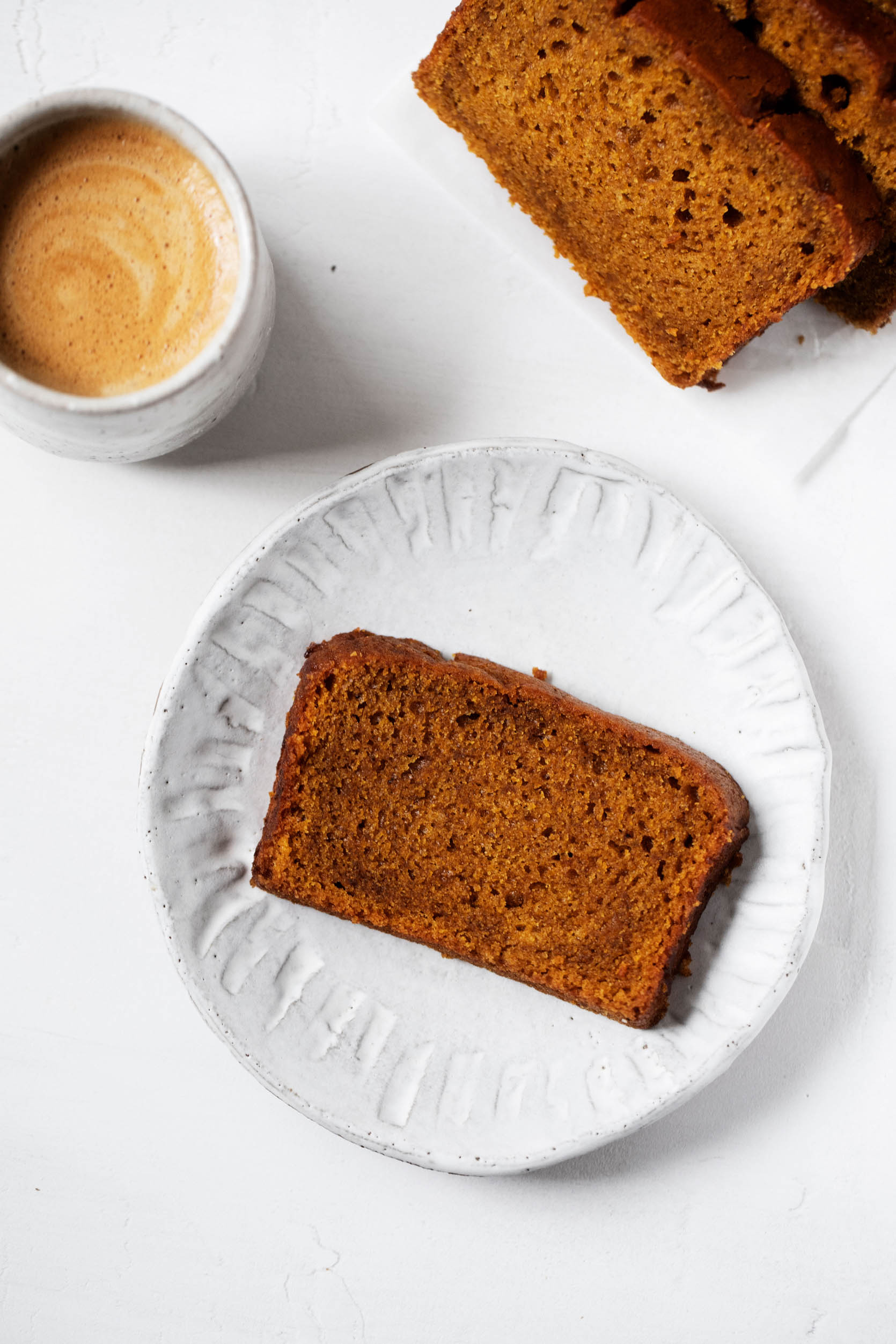 Storing and serving classic vegan pumpkin bread
Once baked, this bread needs some time to cool: about fifteen minutes in the loaf pan, and another few hours on a cooling rack. As tempting as it is to eat the bread while it's warm and freshly made, I think the cooling time is important. It helps the bread to hold its shape, so that you can slice it into perfect pieces later on.
If you don't plan to eat your pumpkin bread right away, you can go ahead and freeze as many slices as you need to for up to six weeks. If you think it'll disappear quickly (mine sure did), then you can store it in an airtight container in the fridge for up to four or five days. I usually freeze half of any quick bread—banana bread, zucchini bread, citrus bread, and so on—as soon as I've baked it. The other half becomes my snacking treats for the week ahead.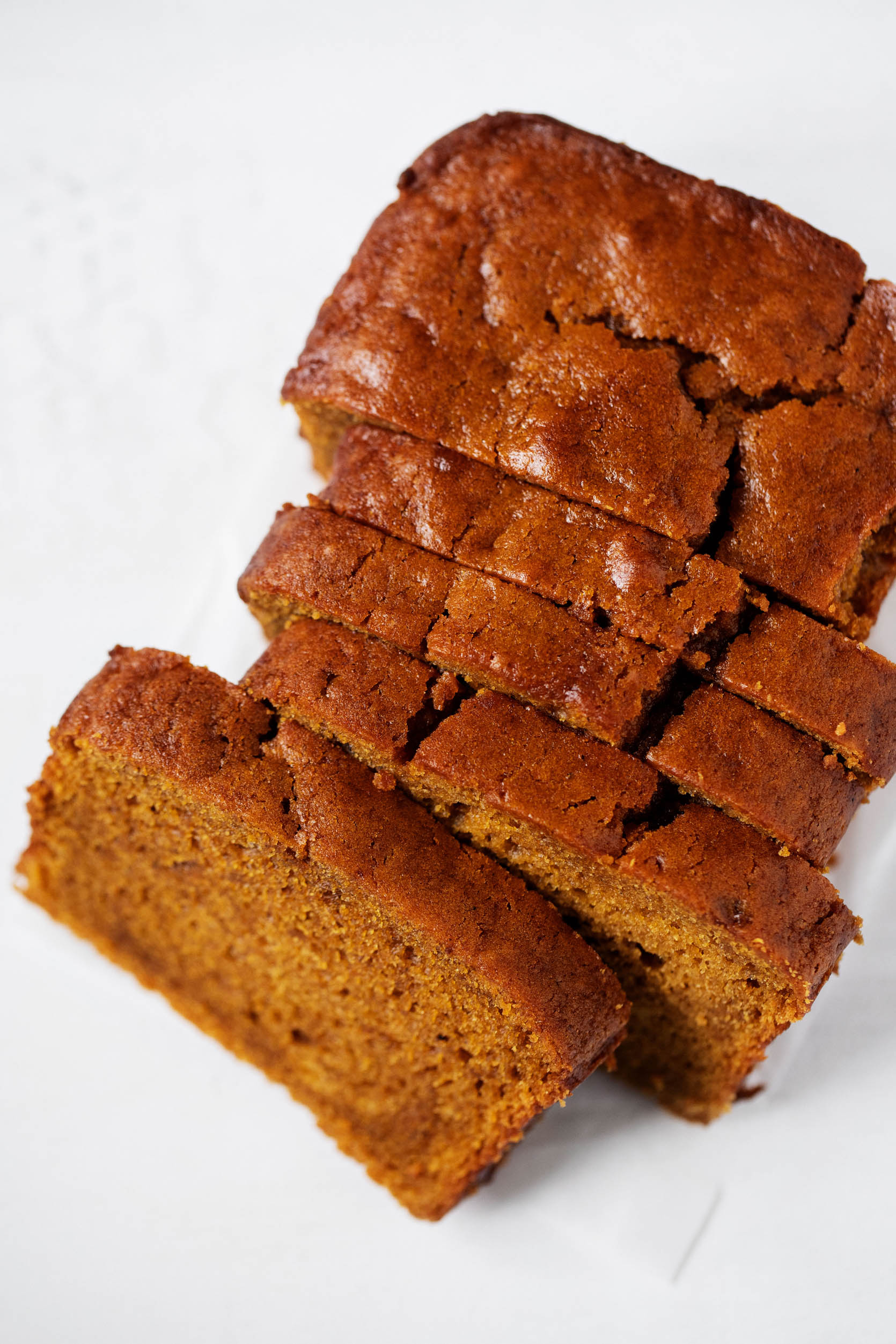 2

cups

(240 g) unbleached, all-purpose flour

1/2

teaspoon

baking soda

1 1/2

teaspoons

baking powder

1/2

teaspoon

salt

2

teaspoons

pumpkin pie spice (substitute 1 teaspoon cinnamon, 1/2 teaspoon ground ginger, 1/4 teaspoon nutmeg, and 1/4 teaspoon allspice or cloves)

2

teaspoons

apple cider vinegar, white vinegar, or lemon juice

2/3

cup

(158 mL) non-dairy milk of choice

1/3

cup

(79 mL) vegetable oil (such as grapeseed, safflower, or refined avocado)

1 1/4

cup

(240 g) packed light or dark brown sugar

1

cup

(250 g) pumpkin purée

1

teaspoon

vanilla extract
Preheat your oven to 350F and oil or grease a 8.5 x 4.5 x 2.75 inch loaf pan. 

In a large mixing bowl, whisk together the flour, baking soda and powder, salt, and pumpkin pie spice. 

Combine the non-dairy milk and vinegar and allow them to sit for a moment. In another mixing bowl, combine the oil, sugar, pumpkin puree, and vanilla extract. Whisk in the milk + vinegar. 

Make a well in the dry ingredients and pour the wet ingredients into the center. Use a spatula to mix the ingredients into a batter. Don't over-mix: you want there to be no more streaks of flour visible, but a few little lumps are fine. 

Pour the batter into your loaf pan. Bake for 20 minutes, then rotate the pan in your oven. Bake for another 20-25 minutes, or until the top of the loaf is domed and set. Allow the loaf to cool for 15 minutes on a cooling rack before removing it from the pan. Allow it to cool for at least two hours before slicing and serving.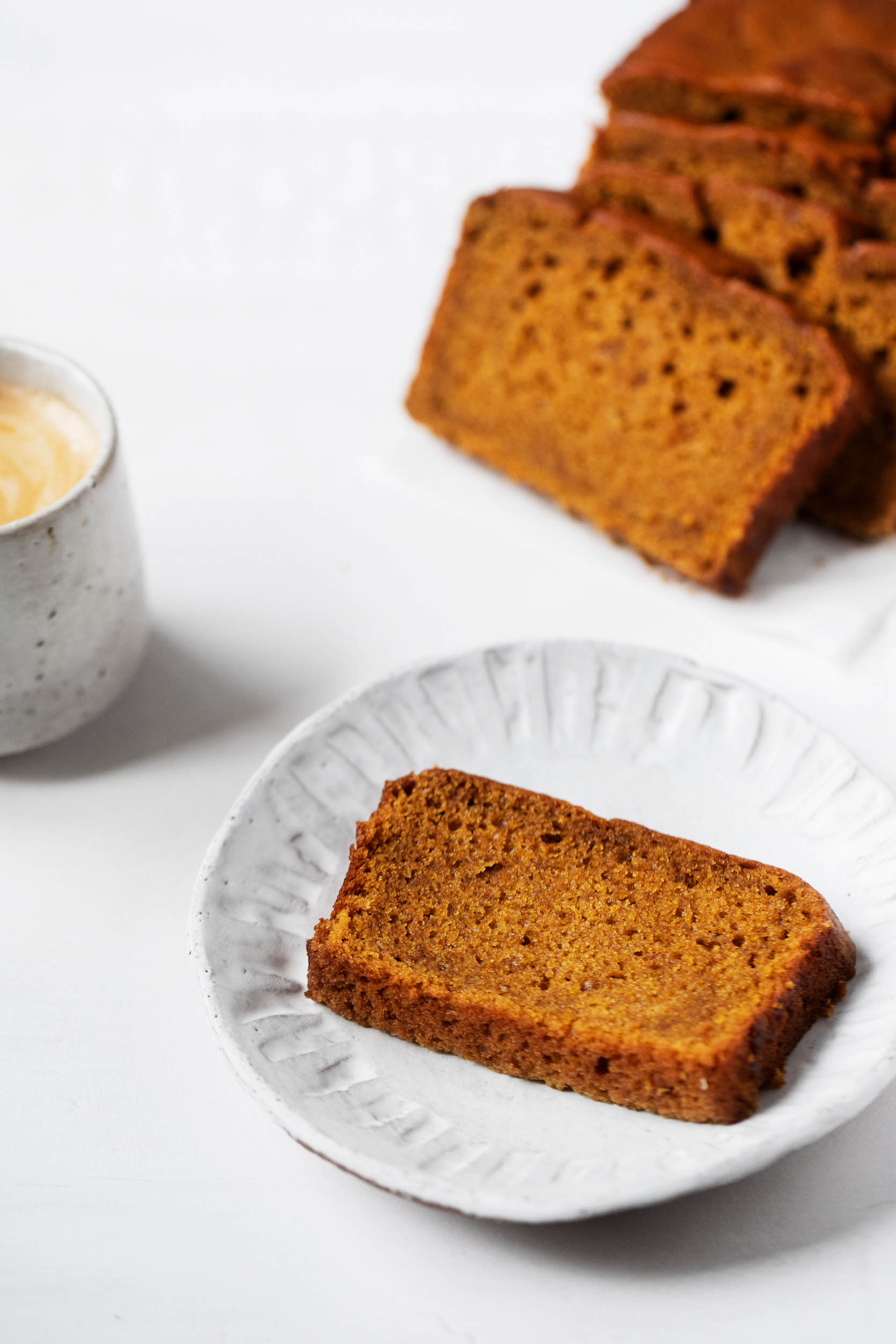 Making this pumpkin bread, more than any equinox or change in the weather, makes it truly feel like fall. I'm happy to have a recipe that feels like my forever pumpkin bread recipe. Hope that some of you will feel the same way.
And hey: if pumpkin bread isn't really your thing, there are other options, and I'll enjoy them with you. Now that I'm stocked up on pumpkin purée, I see pumpkin cranberry walnut muffins, pumpkin oat scones, and pumpkin carrot cake in the not-too-distant future.
Sending you wishes of coziness and comfort today, both of which feel more needed than ever.
xo