Red Curry Dumpling Soup | Fast, Flavorful Soup & Dumplings with Kimchi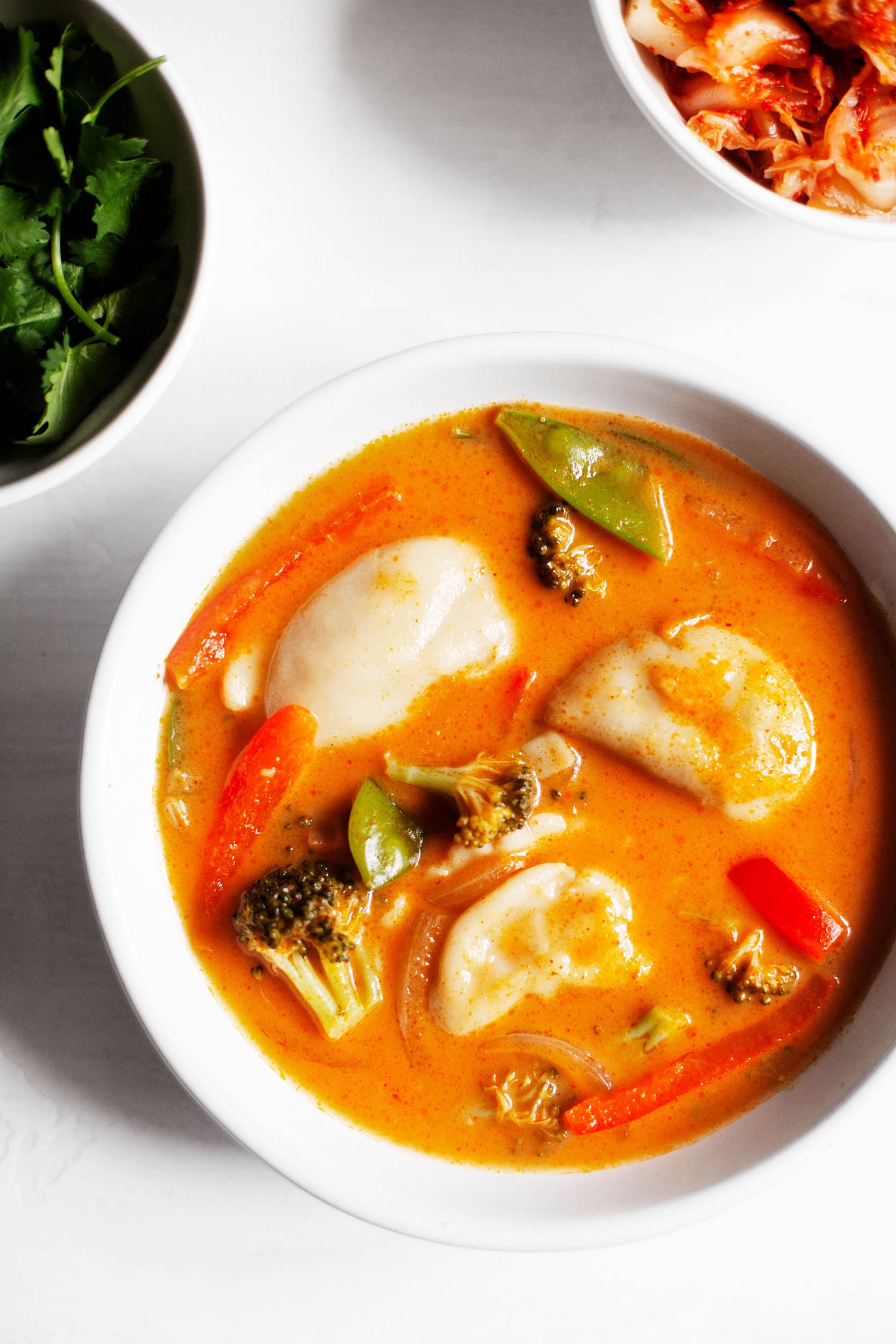 This red curry dumpling soup with kimchi is the epitome of a meal that's as flavorful and filling as it is fast. Thanks to ready to eat dumplings and kimchi, it comes together in just about fifteen minutes.
I often enjoy cool soups, like this carrot lemongrass soup or this gazpacho, during the summer months. But now New York City is entering fall, and it makes me excited for warm soup season.
This curry soup with dumplings is actually a perfect in-between for that time of year when it's possible to have a very chilly morning followed by a warm, sunny afternoon. It's served warm, but it requires less simmering than most pots of soup. The use of some pre-made ingredients is what allows it to be ready so fast.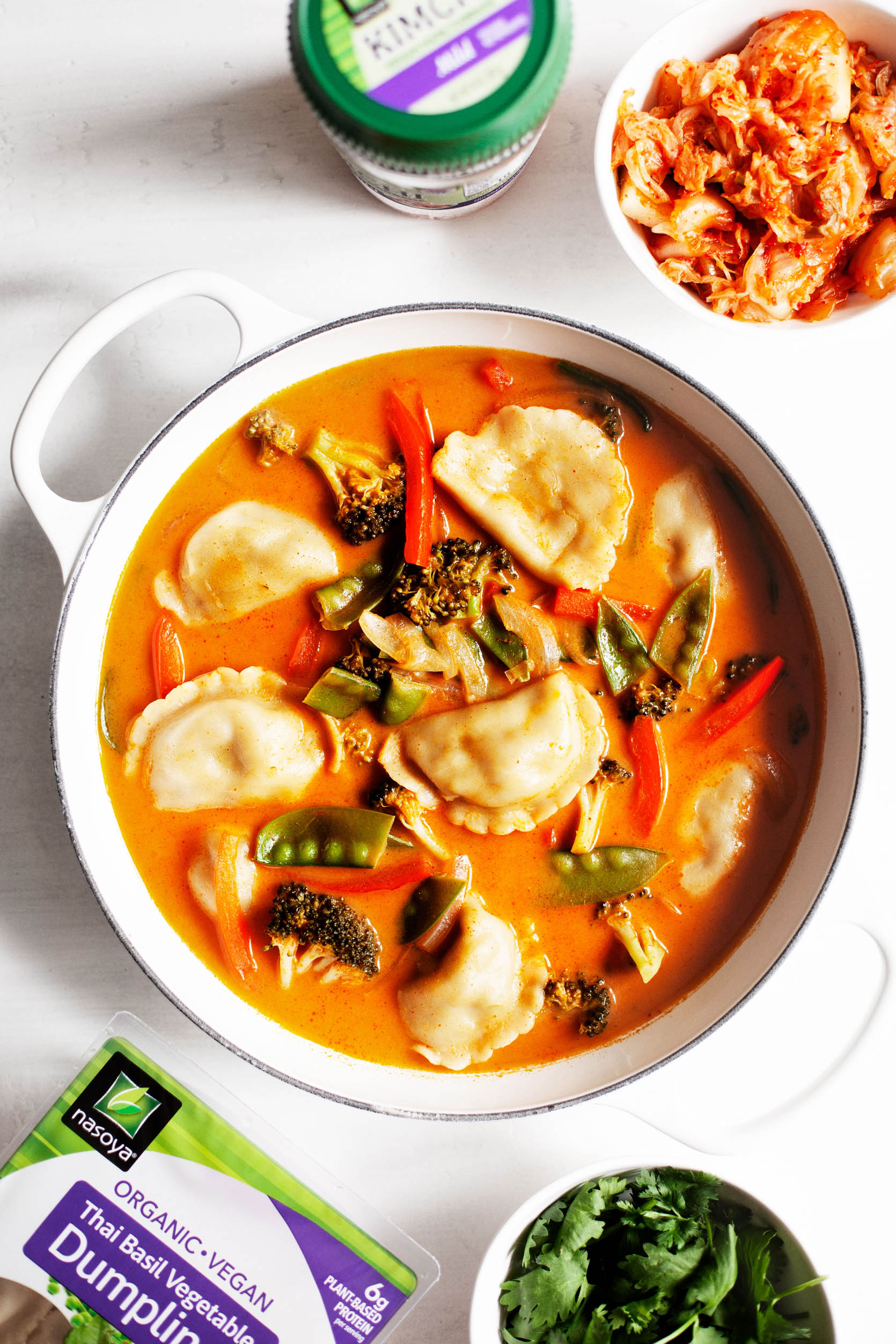 Vegan meal helper: Nasoya's Thai Basil Vegetable Dumplings
Much as I wish I had the skills to make homemade dumplings, I don't. At least not yet: Lisa's tutorial will come to my rescue when it's time to learn!
For now, depend on Nasoya's organic, vegan dumplings. They're completely ready to cook: all it takes to have them on the table is a few minutes of simmering. You can prepare them with water or a broth, as I do in this recipe. And they're delicious, with a toothsome exterior and a savory, tofu-based filling.
Thanks to the tofu filling, the dumplings have 6g of plant-based protein per serving. The filling also has some veggies (onion, carrots, peas, bell pepper, carrots), which complement the other vegetables in the dish. I like the texture at the center of the dumplings, which is tender but not mushy—it still has some texture.
Red curry dumpling soup ingredients
Red curry paste
The dumplings are the star of this soup, but Thai red curry paste is the runner up. The flavors in most red curry paste products—garlic, lemongrass, chili pepper—will complement the flavors in the Nasoya dumplings well.
I'm still learning about the differences between flavor profiles of different Thai style curries. Based on my knowledge and experience using both green and red curry pastes in recipes, I think that either would work in this recipe. I tend to have red curry paste at home more often, so that's what I used here!
Kimchi
This red curry dumpling soup gets a punch of flavor and texture from Nasoya kimchi. Longtime readers know that I've gotten to know this kimchi well! Last fall, I had the privilege of traveling to Korea to learn about how Nasoya's kimchi is made. The trip also taught me about the history of kimchi and how its culinary origins have become modern day traditions.
I sometimes serve kimchi as a condiment, but I also love folding it into dishes, like this pumpkin porridge or my smashed kimchi chickpea salad. For this soup, you can either pile your kimchi into a bowl right before eating or stir the kimchi into the soup in the final minute or two of cooking. It's up to you.
Vegetables
I used some of the vegetables that I often keep in my fridge for this soup: onion, red pepper, broccoli. I also stirred in some snow peas toward the end, so that they'd keep their lovely, crisp tender texture. I like how their sweetness compliments the savory and spicy flavors of the dish.
You can substitute a few other vegetables here, including cauliflower, sugar snap peas, green peas, or green beans. Zucchini would be great, too. Use what you've got.
Coconut milk
Coconut milk feels like the most appropriate source of creaminess in this recipe, as many Thai curries are made with coconut milk or water. It's also a convenient choice, as adding it is about as easy as opening a can. If you don't have, or would rather not use coconut milk, you can use my all purpose cashew cream in the red curry coconut soup instead.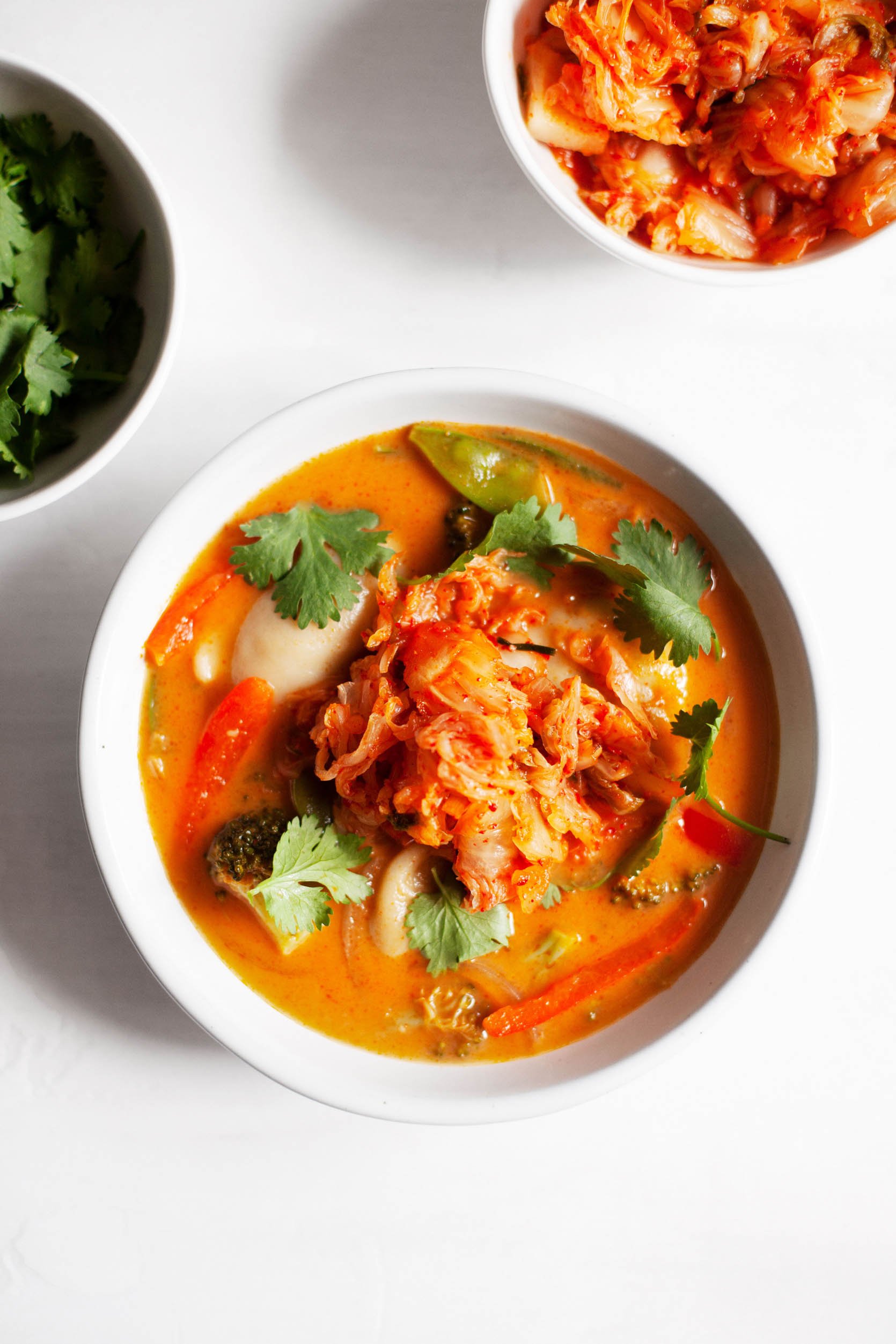 Storing & serving red curry dumpling soup
The dumpling soup will last up to four days in the fridge. I recommend storing all of it except for the kimchi in an airtight container. The dumplings are sturdy enough to hold their shape as you store the soup, which is great.
You can store the kimchi and any additional toppings, like cilantro or green onion tops, separately, adding them before you're ready to serve your soup.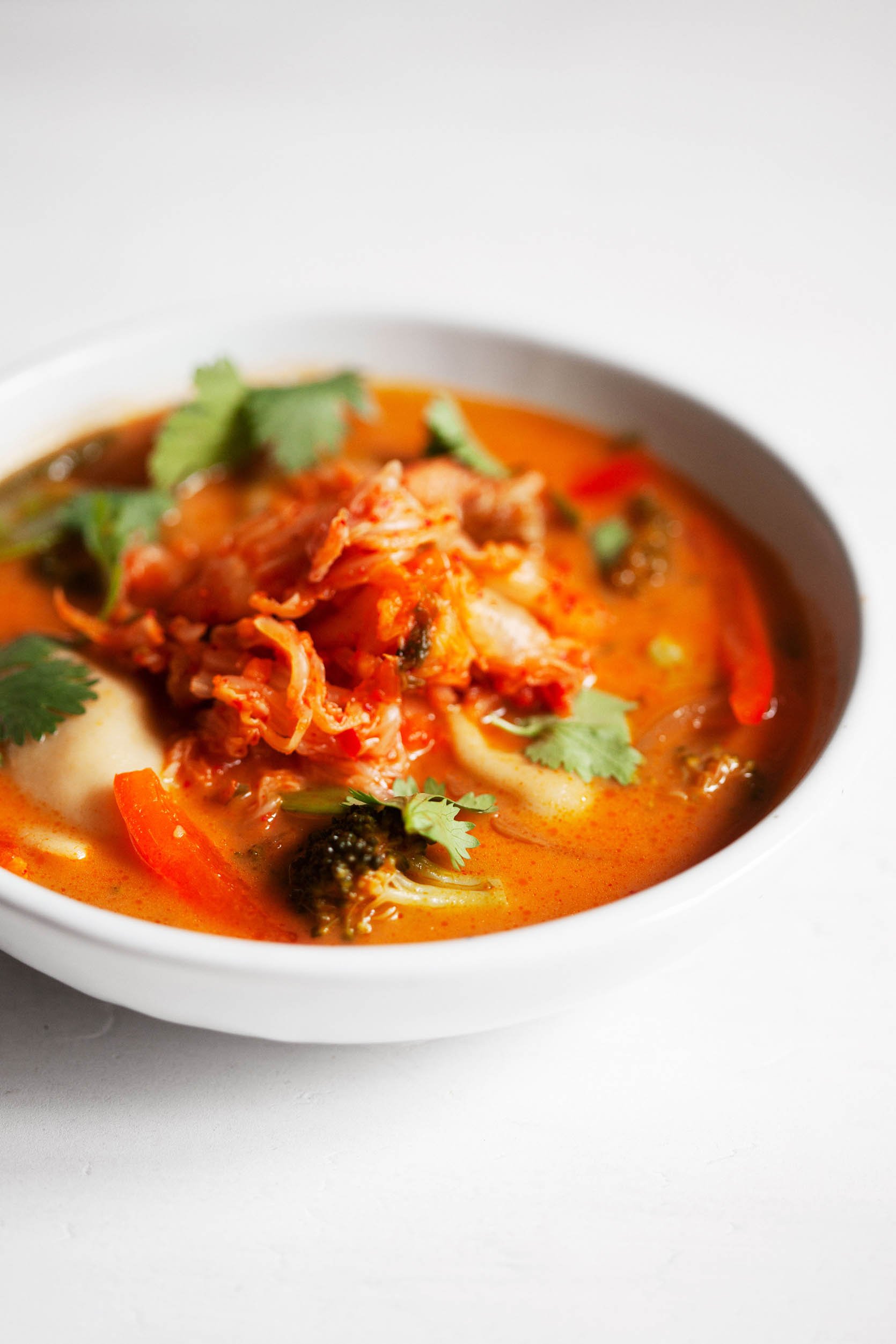 This was actually my first-time enjoying dumplings in a while—maybe even since my trip to Korea last fall. New York City has a lot of wonderful places to order plant-based dumplings, but with the shadow of quarantine this year, I haven't been getting out much. It's been a treat to eat dumplings at home, along with a nourishing, spicy bowl of broth and veggies.
You can find the entire recipe for this red curry dumpling soup, along with more information on finding the Nasoya dumplings near you, over at the Nasoya website.
Enjoy it, and I'll be back here soon.
xo
This post is sponsored by Nasoya. All opinions are my own. Thanks for your support!